Hop Against Homophobia: Freedom of Expression
Visit other authors in the blog hop here.
Freedom of Expression
Hello. For this blog hop against homophobia, I wanted to talk about why I write GLBT romance and offer an opinion on freedom of expression, not only in fiction but in everyday life.
I write GLBT romances for the same reason I write paranormal, historical, sci-fi and just about every other type of story I've written—because it's what I enjoy reading. Over two decades ago, when I first started reading romance novels, I had no problem finding stories focusing on heterosexual relationships. While I enjoyed them, I generally didn't relate to the characters, in particular the heroines. I looked for romantic GLBT fiction, but most of the offerings were exclusively erotica. Though I enjoy erotica, I wanted to read stories that dealt with actual romance, not just sex. Nowadays there's a variety of GLBT stories that focus on more well rounded relationships.
For me romance has always been about people in a loving relationship who are respectful of and dedicated to each other. I've never placed much emphasis on gender and was raised to believe people shouldn't have to fit into certain categories. I write and read all types of romance because I don't believe in any particular set of rules regarding gender. That in itself offends or confuses some people.
Growing up, being honest with my family about my sexuality was never an issue for me. I was very lucky because they loved me as I am and weren't surprised, upset or in any sort of denial about having a child who didn't fit into the "norm." Any issues with homophobia or exclusion I had or have come from outside my immediate family, whether it's deliberate or unintentional comments, misconceptions or "jokes" from others. Despite being raised in a supportive family environment, it took years for me to fully accept and understand myself.
Finally I've reached the point where I can say I don't care what others think about my sexuality or my viewpoints on gender, meaning their fears, skepticism and misconceptions have no influence on how I feel. If they don't understand or appreciate my perspective or my work, that's fine.
What isn't fine is people trying to prevent other people from being themselves.
The problem isn't that everyone needs to be exactly like everyone else. That won't ever happen. The problem is that some believe everyone should be the same and if you happen to be different and express it, you shouldn't enjoy the same basic rights and privileges as the majority.
People have various ways of channeling their creativity. My outlet is writing stories with characters I can relate to, regardless of whether or not other people approve. Someone else might have another way of expressing themselves.
The bottom line is people are individuals and have the right to express themselves personally, professionally, artistically and spiritually.
Kate
Giveaway: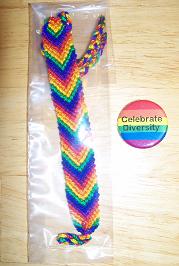 If you would like to enter for the chance to win a rainbow bracelet and button, send an email to katehill@sprintmail.com with HAH Giveaway in the subject line and your name and country in the body of the email. You don't need to include an address. When the winner is selected, I'll email and ask where to ship the prizes. Deadline to enter is midnight May 20, 2012. On May 21, 2012, a winner will be chosen at random from the entries. The prizes will be mailed to the winner and the winner's first name only will be announced on this blog on May 21st.
Links/Resources to Check Out:
Gay & Lesbian Advocates & Defenders
Gay, Lesbian, Bisexual, and Transgender (GLBT) Health Access Project
Massachusetts Transgender Political Coalition
National Center for Transgender Equality
Parents, Families and Friends of Lesbians and Gays