Halloween Guest – Katherine Kingston
Note from Kate: If power is lost due to the coming storm on the east coast, the Halloween contests scheduled for this week will be postponed. Watch this blog for details. If you would like updates about the contests and other news, feel free to join my newsgroup at http://groups.yahoo.com/group/katehill/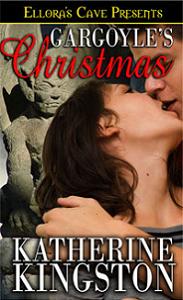 Katherine Kingston
www.katherinekingston.com
Blog
Masquerade Party Guests
The main characters from Gargoyle's Christmas are invited to a masquerade party. What are their costumes?
Given his sense of humor, Averic would go as a gargoyle, of course, since he is one, though he might alternatively do a Batman thing, since that's what Tricia first thought he was. Tricia might go as a gargoyle as well, but she could also go as a mountain climber (a private joke between them, but you'd understand if you read the story.)
Gargoyle's Christmas
For one month of the year, around the winter solstice, gargoyles can assume human shape, though it entails a steep price. Averic has become entranced by a woman he sees pass by his cathedral each day and decides to take human form during the Christmas season to get to know her better. To ensure he knows how to please her, he eavesdrops on her dreams and learns that she longs for exactly what he'd like to give her.
Tricia McKinnon is just about to give up on her long-held fantasy of finding the right man, a sexual dominant, but one who is also strong, honest and caring. When a fall at a street corner literally dumps her into the arms of Eric Stone, blazing sexual attraction erupts. She cleans his scrapes, feeds him, and lets him kiss her until her senses reel. When she learns what he wants from her, Tricia begins to believe she's been granted a Christmas miracle. But that miracle is more complicated than she knows and claiming it will challenge her in astonishing ways.
The following excerpt from GARGOYLE'S CHRISTMAS is for readers 18 and over.
Tricia couldn't shake the feeling of someone watching her. She'd felt it ever since she'd walked past the cathedral ten minutes ago. Of course, she always got that prickle of awareness when she passed by there. It didn't seem threatening or dangerous, but it gave her an odd shiver nonetheless.
She hated walking home in the dark and mentally cursed her boss for insisting the monthly reports had to be finished that day. He didn't have to present them to the board for another three days. Another half-day's wait wouldn't have killed him.
Uneasiness turned to alarm when she heard a new sound. Footsteps came from behind, too close and clearly following her. At least two and possibly three people trailed her. She opened her purse and reached in to get her pepper spray.
When a hand clasped her shoulder, spinning her around, she nearly dropped both purse and canister. Three men stood behind her. The darkness and shadows obscured their forms, but they reeked of alcohol and unwashed bodies.
"Hey, lady," one said. "Help the needy?" The words were slurred and insolent, not a request at all.
She backed away, but they stepped with her, closing slowly in arc that surrounded her on three sides. "What do you want?" She reached into her purse to pull out her wallet. "I don't have much money, but-"
"This'll do." One of the three reached for the purse to snatch it from her.
Another voice spoke from the shadows behind the three men. "I don't think so."
What happened next occurred so fast she experienced it as a blur of motion. The thug in the center toppled sideways, taking the man on his left with him to the ground while the third one spun to face the newcomer, ducked, reared backward then crumpled up, moaning on the sidewalk.
One of the other two had disentangled himself and swayed to his feet, fists swinging. A flash of movement in the darkness and he went down again, hard, landing almost at her feet.
A tall man stepped over the prone form. A heavy cloak veiled his form and a broad-brimmed hat shaded his face, but he moved with powerful, supple grace and control. He was only slightly less frightening then the drunken, would-be muggers. He reminded her of the covers of some of her favorite romance novels, with heroes in flowing, dark capes. Would his face be as handsome when she saw it? What those covers didn't convey was the sense of menace a large, dark, cloaked man conveyed. She took another step backward.
"I won't hurt you." His voice was deep and rough, with an edge of gravel that sounded as though he didn't speak much.
Tricia drew a deep breath, struggling to repress a sob. "Who are you?"
"A friend. Truly, I won't harm you. You have my word. I'll escort you home in case someone should try to attack you again."
He was dangerous, she decided , but she sensed no threat to herself from him except for his interest in her. That made no sense. Letting him know where she lived seemed like a bad idea. She opened her mouth to object but stopped on the realization that it didn't matter. He could follow her anyway.
"Thank you."
He took another step forward. She studied him, trying and failing to get a look at features obscured by the hat. Sighing, she gave up and turned to head for home.
"Who are you?" she asked as they walked. "Why did you help me?"
"You don't think you're deserving of assistance?"
"Well, yes, but why me? People get mugged every night in the city and no one rescues them."
"I have only a few such rescues in me," he said.
The warm, deep tone sank into her with a calming effect. "Are you some sort of Batman wannabe?" she asked.
"I am not a bat-man," he said.
"What are you then?"
He hesitated before he answered, "Please call me a friend and leave it at that."
"All right. I'm sorry for all the questions. I am truly grateful for your help."
"It's not wise to be out after dark by yourself on a lonely street like this."
"I know. My asshole boss made me work late. I don't plan on letting it happen again." She turned toward the door to her apartment block. "This is home. Thank you again for your help. I'd like to… Can I buy you a coffee or something sometime? Meet you somewhere?"
His hesitation added to the sense of strangeness about him. "No, thank you. Knowing you're safe is thanks enough. Now go inside."
"Thank you again, then," she said. "I hope we'll meet again, under more pleasant circumstances."
He nodded but didn't answer. As she went inside and shut the door, she thought she heard him whisper, "So we shall."
The sound of his deep, rough voice and the way it seemed to reach into her and curl around her womb stayed with her for the rest of the evening. Was it just because she'd never been rescued before? Because it seemed that all the men she'd ever dated were either wimps or jerks? Because she'd never found that combination of confident authority, gentleness and honor in any other man and had pretty much decided she never would?
Everything about him fed into her most basic and secret fantasies.
He featured prominently in her dreams that night, especially the first one, the dozing fantasy that comforted while feeding her longing.
Purchase Link: Ellora's Cave
Contest
Contest Winner: Congratulations, Cathie!
To enter this contest you must be 18 or over.

To enter for the chance to win an ebook copy of the book of their choice from Katherine's available books, post a comment here. Please include your email. If you would like to enter and prefer not to post your email here, send an email to katehill@sprintmail.com and say you commented and would like to be entered in Katherine Kingston's contest. On October 29, 2012 at 11pm EST a winner will be chosen at random from the comments here on the blog. The winner's first name only will be posted on this blog. Thank you and good luck!