Interview with Elizabeth Rose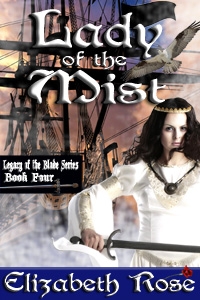 When you're brainstorming for a new story, what usually comes first for you, the plot or the characters?
A little of both. I usually have an idea of something I find interesting and want to write about, such as when I wrote about building a medieval castle in Amethyst, or the fact I wanted my heroine to be a lady pirate in Lady of the Mist. I usually have a pretty strong idea of my hero and heroine and a few important scenes, and then I just let it go from there.
Are you a plotter or a pantser?
Well, I'd have to say pantser on this one. Like I said, I'll have a general idea of what kind of story I want to write, but to be honest, I let the characters tell me what happens. Half the time I get to the cliffhanger at the end of the chapter and have no idea what's going to happen in the next chapter until I write it. It's almost like I'm just as surprised as my readers at what transpires.
When you're writing, who is more in control, you or your characters?
My characters. And though I may try to tell them what to do, they very rarely listen and just do whatever the heck they want anyway, no matter what I say. Gee, a lot like having kids, huh?
Can you write sex scenes at any time or do you have to be "in the mood?"
I think it's the opposite way around. Writing the "love" scene might put one in the mood. And no, it doesn't matter, I can write them whenever, since I'm just taking dictation from my characters so to speak.
What do you like best about writing?
That I can escape to another world, another time, and let my creative muse come out.
What is the most difficult thing about writing?
I'd say the editing. And since I do everything myself, you get to the point where you know what it's supposed to say and your brain sees it that way even if it's not that way on the page. No matter how hard you try, you'll always find typos or things after it's published. I'm constantly revamping and tweaking my books and covers.
What do you like about writing series books?
I love writing series books and interweaving different characters' lives. That's probably why I have so many. My series books are: Legacy of the Blade Series, Elemental Series, Tarnished Saints Series, Greek Myth Fantasy Series, Daughters of the Dagger Series and my latest – my Scottish MadMan MacKeefe Series. I actually cross over some characters from one series to another. And I admit, since I'm a pantser and write nothing down, sometimes it gets a little challenging. I also have a few other series in the planning, so keep an eye on my website to find out more.
What do you feel are some of the pros and cons of epublishing?
I've been writing for many years and had my first book published way back in 2000. I LOVE epublishing as an indie author because I like to be in control. Publishers take too long, control your writing, and take most your profits. I am a very fast writer and can write, revise, and publish a full-length novel in two weeks. I do my own editing, covers and also my own book trailers. I can work at my own speed with no one to slow me down. Also, I love ebooks because they're stored in the clouds and not on your bookshelves taking up room and needing to be dusted. It's the way of the future.
Where do you find inspiration for your stories?
In everything and anything. The smallest things can inspire a story. My friends know to be careful around me, or anything they say or do can end up in a book. (Smile.)
What are your favorite research resources?
I remember the old days of going to the library, searching through books, lugging them home and then looking for info. Online is sooooo much faster. I may be writing a medieval and think – did they have buttons back in the 14th century? Well, without losing my momentum, I can click online and have the answer to my question in a moment. This is another reason why I can write so much faster now-a-days.
Do you find it harder to write novels or short stories?
I almost think short stories are harder. Because of the fact, you don't have time to delve into the characters and what drives them, their strengths and weaknesses, nor a lot of backstory. So it's a challenge to bring it all together in a way that'll satisfy your reader and not leave them wanting for more. I have a short story that is FREE which is my Prequel to the Daughters of the Dagger Series. It gives the background of what happened to the girls' mother, and also sets up the traumatic start for their brother, Onyx who they think is dead.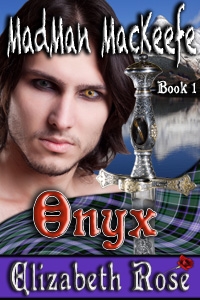 Would you tell us about your latest release?
I would love to. My latest book has just been released, and is Onyx – Book 1 in my Scottish, MadMan MacKeefe Series. Onyx is feared as a demon because of his two different colored eyes. He has some serious issues from the past. Not wanting to give away any secrets, let's just say he dies a thousand deaths. He is wild and crazy and has two close friends, Aidan and Ian (next two heroes in the series) who get themselves into situations. Lady Loveday de Lacy – called Lovelle – is English, and more or less an enemy of the Scots. And she comes to Scotland looking for her father's murderer and something that was stolen from them, the Book of Hours. (The Book of Hours is real, and a very interesting part of my research.) Anyway, Onyx kidnaps Lovelle and they have many trials, including combating an outbreak of the plague which really happened again back in 1361.
What are you working on now?
My newest work in progress is Aidan – Book 2 in the MadMan MacKeefe Series, which will be released in Jan/Feb. Click on the title above and get a sneak peek at the cover. And Aidan is HOT!
Do you have an excerpt from your latest release you would like to share?
Sure. This is an excerpt from Onyx, after he's kidnapped Lovelle and has just hunted rabbit for dinner.
Onyx only meant to scare the girl so she wouldn't give him trouble or try to escape during the night, but when he pressed up behind her and took her hands in his, and guided one to the rabbit and the other to his dagger, he felt as if she were scaring him instead. What was it with this Sassenach that had him excited every time he got near her? Probably the fact that most lassies were repelled by him, but this one showed no fear.
"All ye need te do is start by cuttin' off the rabbit's feet." He guided the dagger toward the dead rabbit's feet, and noticed her eyes closing, and that she was holding her breath. The scent of rosewater and soap filled his senses, and the softness of her long, unbound hair rubbed up against his face.
She was so fresh and clean. So alluring. He knew he probably smelled like woodsmoke and the earth, and he felt as if he had no right to be holding her so close and touching her like this.
A wave of desire shot through him, and he wondered how it would feel to kiss her right now. Her lips were full and lush and her cheeks rosy. Her skin was so smooth and unblemished. And from his position hunkered down behind her, he could see the tops of her breasts and the way her chest moved in and out as she breathed heavily, probably from anticipation of having to skin a rabbit – something he was sure she'd never done in her life.
What three words would the hero of your story use to describe his love interest?
Bonnie, Brave, and Determined
What three words would the heroine of your story use to describe her love interest?
Crazy, Fearless, Dangerously-handsome. (Ok, maybe that was four words, but I tried.)
If the main characters in your latest release were invited to a masquerade party, what costumes would they wear?
Onyx would be wearing the robes of a healer back in the days of the plague. Long, black robe and hood, and a mask with a long bird beak stuffed full of posies and herbs, thought to keep them safe from the Black Death. (He wears this in the book, too.) And Lovelle would be dressed like a wildcat of the Highlands, as Onyx likes to make her purr.
What makes the hero of Onyx – Book 1, hot?
The same thing that makes him terrifying. His eyes. Check out my cover. I photoshopped it to give him one orange eye and one black eye. Just like in the novel. Of course, he's tall, dark, and handsome as well. And the intensity of that gaze . . . hot!
Would you give us a sneak peek at one of your upcoming releases?
If you go to my website: http://elizabethrosenovels.com, you can see a sneak peek at the cover of my next release, Aidan – Book 2 in the MadMan MacKeefe Series. You can also read excerpts from any of my books there.
Do you have a favorite character or characters you feel especially close to?
Of course, I like them all. But I feel like one of my favorite heroes is Storm MacKeefe, the hero in Lady Renegade. And the heroine, Wren, I also feel a closeness to, as her character was a challenge to write. You see, Wren becomes blind in the prologue of the book, and so everything she is experiencing has to be conveyed without the use of sight. And Storm, a crazy Highlander, is what inspired my MadMan MacKeefe series, as they are all from the same clan. Storm and Wren make an appearance in Onyx, so if you don't want any surprises ruined, you may want to read Lady Renegade from my Legacy of the Blade series first.
Would you share one of the sexiest or most romantic lines from one of your books?
Well, I don't write erotica, but I do have some pretty hot love scenes. It's hard to do it in one line, but here is a line said by Lucifer – or Lucas to Amber, in Amber – Book 3 from my Daughters of the Dagger Series. I can't say it's romantic, but I really like this scene, as it is the first time they make love. Amber was studying to take her vows and be a nun, and Lucas is nothing but trouble. Let's just say, she's changed her mind when this comes up, and she's on her knees . . . but not praying. Lucas says to her: "With a bold move like that, you'd better the hell be planning on doing something other than praying right now," he warned her. This book deals with corruption in the church and the stealing of the Regale Ruby – another true incident from history.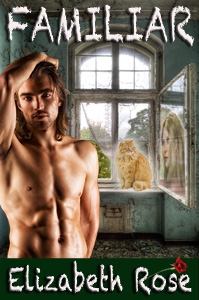 What are a few of your favorite book covers that have been done for your books?
Well, since I do all my own covers, I love them all. I get exactly what I want on the front. But I'm going to narrow it down to four, out of my 27 published books. I love writing paranormal, and there is more of that coming in the future, I promise. And one of my favorite covers is The Dragon and the Dreamwalker from my Elemental Series. I love the dark overtones of the story, and the dragon up in the nighttime sky. Brynn, the heroine of the story is half fae and possesses the power of the element of fire. The flames on the cover are actually from my backyard campfire but you'd never know it.
Next cover is Familiar. Slade is a warlock, and his body on this cover is too damned sexy. If you watch the book trailer video I did, you'll get even a more revealing glimpse of his hot body. Book trailer. And look at the cat's reflection in the window – it is the heroine, Susie, as she is cursed and turns into a Familiar, or cat, at night.
I also really like the cover of my vampire romance, The Caretaker of Showman's Hill. This book was inspired by a true-life circus train wreck. Basil, the hero on the cover once again is a feast for the eyes. And check out the book trailer I did for it, and look at the names on the tombstones in the graveyard. I personalized them.
The last cover I want to mention is from my new release Onyx. I love the intensity of his eyes, as well as the Highland snow covered mountains in the background and the actual crack in the onyx stone on the hilt of his dagger – which I put there myself.
If you could meet one of your characters, which one would it be?
Well, I'd like to meet all of them, but if I had to choose one, I'd say Nikolai from The Pandora Curse, one of my Greek Myth Fantasies. First off, just look at those eyes of his on the cover and you'll see why. Also, because he is a demi-god and also a seer. I'd love to meet any of the Greek gods and goddesses, and even Nikolai's sidekick, a little blob of a shapeshifting minion named Baruch who adds humor to the book.
Do you prefer writing your heroes, your heroines or do you like writing both equally?
I like writing both, but my favorite is really the hero. I love to make my heroes dark and dangerous and very tortured either physically or emotionally. I've noticed that a lot of my heroes have issues with their fathers. And as for the heroines, you will never find a wimpy heroine in my books. I like to empower females, and that's why you'll always see my heroines able to wield a sword, and they are always fearless standing up to the hero. One of my favorite heroines is Lysandra from Thief of Olympus, from my Greek Myth Fantasy Series. She is an Amazon princess, and in the opening chapters she's got the hero down on his knees in chains – naked, at her coming of age ceremony. Ok, that's all I'm going to tell you, as you'll just have to read the rest.
If you were a shapeshifter and could become any one item owned by your latest romance hero (or heroine), what would it be?
I love shapeshifters and have several of them in my novels. I think I'd be Onyx's pet Scottish Wildcat, as I love wildcats of any kind. And being Onyx's pet wouldn't be so bad, either.
If you could step into one of your books, which one would it be?
Well, since I'd really like to visit a medieval castle someday, and I love anything having to do with the era, I'd probably step into Lord of the Blade, as this is the very first book I ever wrote, and here is where it all began, so it is special to me. Besides, I just love the castle on the cover. I put the banners and flags on it, with of course the hero's personal crest.
Would you share a favorite quote from your latest hero, heroine or villain?
This quote is actually from an old, blind hag in my latest book, Onyx. She is very mysterious and full of wisdom. "When we stop living in the past or the future and live in the present, life takes on a whole new meaning."
Would you tell us about yourself?
Well, I am a very private person, but I will say I am married to a wonderful man for many years now, and have two grown sons.
What are your favorite genres to read and write?
I love anything mystical, medieval or paranormal, and also like reading self-help types of books.
Where can we visit you online?
My website is http://elizabethrosenovels.com, or you can click on my Facebook page.
To you, what makes a great romance hero?
Dark, dangerous, mysterious, and of course sexy! I also like my heroes with issues they need to overcome. That makes them more vulnerable and it opens a space for the heroine to get in, because every hero should need the heroine in one way or another.
To you what makes a great romance heroine?
Sassy, spunky, able to fend for herself, and willing to stand up for what she believes but also able to lose that control when she is in the hero's arms.
Do you have any particular writing habits? (Listening to music, best time of day to write, etc.)
I found my power time is early in the morning. Once it hits dinner time, I am done for the day. I tend to get more done if I just sit and write all day long for a week straight, rather than do a little here and a little there. I'm kind of one of those people where it is all or nothing.
Where would you go on your dream vacation?
Ok, that's easy. I want to go to Scotland and England and see medieval castles, as well as visit every place I've written about in my novels.
Name three fictional characters (not your own) that you find hot. They can be from books, movies, or TV.
This is going way back, but do any of you remember the late Kevin Smith who played Ares in the tv shows Xena and Hercules? I thought Ares was hot! That's what inspired Kyros' Secret. Ares is one of my main characters. Also, Val Kilmer playing Mad Martigan in Willow. Of course, I always like those long-haired characters. And the third one would be going back quite a ways too, but the demon, Cole Turner on Charmed, played by Julian McMahon. In his human form of course, not the demon form. Still, once again, dark, mysterious and dangerous.
What is your favorite season?
Being an artist, I love the colors of autumn, but I am a warm weather person, so I like Summer the best.
What is your favorite comfort food?
Pizza, coca-cola and dark chocolate. Not necessarily in that order.
Thank you for inviting me to your interview blog and once again, everyone please visit my website at http://www.elizabethrosenovels.com and sign up for my mailing list so you can get updates to my new books coming out every month as well as read excerpts, get sneak peeks at my upcoming covers, and also watch my new book trailer videos.
Elizabeth Rose