Halloween Guest: Elaine Calloway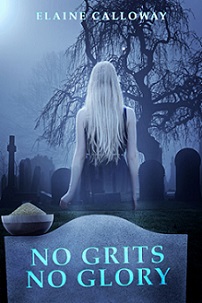 Author Name: Elaine Calloway
The hero or heroine in your latest book is asked to decorate for a Halloween party. What does he/she use?
Brianna – heroine – Duck Tape and sound-proof walls, in order to prevent the Southern ghosts from singing "99 bottles of beer on the wall" at the top of their lungs, just for sport J
Your hero or heroine occupies a room in a haunted mansion. Which room is it and why?
Hero – Steven – the downstairs, which he's turned into a music studio. If a few ghost noises get on the soundtrack, so be it J
What is your favorite Halloween or autumn decoration?
I have a table centerpiece with autumn colors of reds, golds, and oranges. It always sets the mood for the room.
Links:
Website: http://www.elainecalloway.com
Blog: http://www.elainecalloway.com/blog
Twitter: http://www.twitter.com/writerscanvas
Facebook: https://www.facebook.com/authorelainecalloway
Pinterest: http://www.pinterest.com/elainecalloway/
GoodReads: http://www.goodreads.com/author/show/6915219.Elaine_Calloway
Featured Book Title: NO GRITS NO GLORY
Purchase Link:
http://www.amazon.com/dp/B00NNZRSR2 for Amazon.
For other vendors, go to book page on my website:  http://www.elainecalloway.com/books/southern-ghosts-series/no-grits-no-glory/
Blurb:
Brianna fled to Savannah to escape the voices of the dead. Just when she thought she'd left all paranormal things behind, she discovers her house is haunted. Not just haunted, but haunted by Southern ghosts. These persistent beings not only hide her white shoes after Labor Day, but they leave grits-caked dishes in the sink, and swear to wreak havoc on her life – – unless she helps them.
Steven put Savannah in his rearview mirror years ago to follow his passion for music. When his band splits up and he can't reach his little sister for weeks, he races home–only to learn his whole family died in a mysterious house fire. The house Brianna now lives in.
Together, Brianna and Steven learn who murdered Steven's family and become caught in a web of intrigue that will cost their careers, their homes–but especially their lives.
Excerpt:
CHAPTER ONE
The bitterest tears shed over graves are
for words left unsaid and deeds left undone.
– Harriet Beecher Stowe
Boston 1997
Brianna McNeil spent years talking to the dead, sharing secrets with those who passed through her family's mortuary. But the day one talked back, everything changed.
It had happened on her fifteenth birthday, at Declan's burial. If only her big brother had been the first to whisper from the grave, she might have handled things better. But no, the first voice was creepier–threatening, even–and without a body attached.
Her Irish clan stood around the grave, huddled together under umbrellas. Uncles sipped Jameson and spoke of Declan's bravery. Aunts sobbed and held each other. Across the lush cemetery, Celtic crosses and winged cherubs loomed over gravestones, protecting the dead with their vigilant watch. Now they would protect Declan, her confidante and idol.
In the chilling drizzle, Brianna approached the coffin. An American flag cloaked the long box like gift wrap. Maybe the stars and stripes were supposed to be comforting. They weren't. She didn't need a hero. Just her big brother back.
Leaning over so no one could hear, she whispered, "Your life was cut short, but I'll make a difference with the time I have left. I promise."
Lightning crackled across the sky, followed by an ominous voice. "Be careful, Brianna. No one breaks a promise to the dead without retribution."
If only she'd listened.
Author Bio:
Amazon bestselling author Elaine Calloway writes paranormal fantasy romance books for Kindle and paperback. Whether she writes about Elementals, Fallen Angels, or Ghosts in the Deep South, all books are set in iconic cities such as New Orleans.
She is currently writing the Elemental Clan Series and the Southern Ghosts Series. Originally from New Orleans (she can still do a decent Cajun accent upon request), Elaine Calloway grew up with a love of all things supernatural and gets back to the Crescent City as often as she can.
Halloween Page Contest
As part of the Halloween Page Contest, Elaine is offering 2 e-book copies of NO GRITS NO GLORY in Mobi, ePub, or PDF format. For details on how to enter for the chance to win, visit http://www.kate-hill.com/halloween2014.html.