Halloween Guest: Stacy Juba
Author Name: Stacy Juba
The hero or heroine in your latest book is asked to decorate for a Halloween party. What does he/she use?
I'm finishing up rewrites on my latest book, a chick lit sweet romance called Fooling Around With Cinderella. My main character, Jaine, is a marketing coordinator at a children's fairy tale theme park and she has actually been trying to convince her boss Dylan to hold an annual Halloween extravaganza. She would love to decorate the entire park. I could see her stringing orange and black lights around fairy tale houses and lampposts, decorating the walkway to Cinderella's castle with hand-carved jack-o-lanterns, and decorating the auditorium with bats, pumpkins and cobwebs. Many of the retailers and ride operators would wear Halloween costumes and have trick or treating stations set up, and Halloween songs would play over the speakers as background music throughout the park.  The park would offer free Halloween face-painting and even Cinderella and Red Riding Hood would have little pumpkins or ghosts painted on their cheeks.
What is your favorite Halloween or autumn decoration?
My favorite Halloween decoration is a light-up Mickey Mouse in a wizard hat, popping out of a jack-o-lantern. I bought it for my husband (who was my boyfriend at the time) the year we first started dating. I loved Halloween and he didn't have one decoration, so I told him that we needed to spruce up his apartment. We bought a real pumpkin from a pumpkin patch and we also went to the store and picked out the Mickey decoration. That was about 17 years ago. Now our kids enjoy putting Mickey Mouse in the window every year and lighting him up.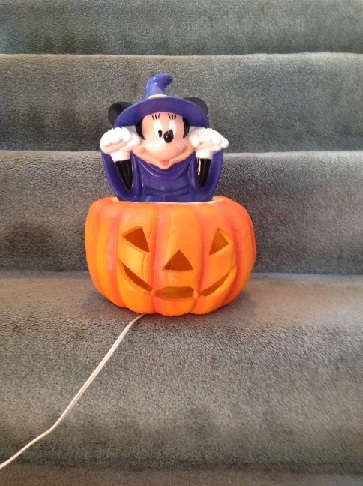 Links:
Website: http://stacyjuba.com/blog/
Facebook https://www.facebook.com/pages/Stacy-Juba/100155471301
Twitter https://twitter.com/stacyjuba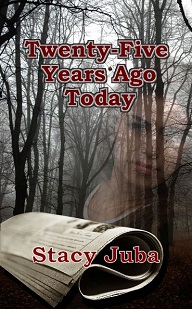 Featured Book Title: Twenty-Five Years Ago Today
Purchase Links:
Amazon: http://www.amazon.com/Twenty-Five-Years-Ago-Today-ebook/dp/B003U4WVKA/ref
Barnes & Noble: http://www.barnesandnoble.com/w/twenty-five-years-ago-today-stacy-juba/1017979048?ean=2940011980930
Blurb:
Should we dig for the truth when Pandora's Box is a coffin of buried secrets? For twenty-five years, Diana Ferguson's killer has gotten away with murder. When rookie obit writer and newsroom editorial assistant Kris Langley investigates the cold case of the artistic young cocktail waitress who was obsessed with Greek and Roman mythology, not only does she fall in love with Diana's sexy nephew, but she must also fight to stay off the obituary page herself. Get in on the secret – join thousands of readers in discovering who killed Diana Ferguson
Excerpt:
"Kris? Kris?"
Her eyes snapped open, the scream ripping from her throat. She glanced around the dark room, shapes foreign, distorted by shadows. "No. I'm sorry Nicole …"
"Kris? Kris?" Someone shook her shoulder. She gasped.
"Kris." Eric hugged her. Warm. He felt so warm. He stroked her hair, whispering in her ear. "It's okay. Everything's gonna be okay."
Reality rushed back to her. She hadn't lasted through the movie. She had turned off the television and slipped into unconsciousness. Eric's face fuzzed in and out of focus.
He switched on the lamp. "Want a glass of water?"
"No."
"What were you dreaming?"
"I don't remember."
"You screamed out 'Nicole.' You woke me up."
"I'm sorry."
"Don't be. Nicole was your cousin, right? Tell me about her." Eric rubbed her hair again, the gentle strokes calming her.
"We were the same age," Kris said. "Our families were close. We lived in the same neighborhood."
"That must've been fun."
"It was. Lots of fun." Tears spilled down her cheeks. Eric traced one with his fingertip.
"My mother told me your cousin was the girl who was killed by a neighbor," he said in a hushed voice. "I remember hearing about it when I was a kid. She went to a different school, but it still shook up all my friends. It was awful."
He wasn't wearing a shirt, just sweatpants. She must've scared the hell out of him.
"I'd rather not discuss it," Kris said.
"I want to help."
Kris felt the words surging to her throat, but she couldn't tell him. Not now. Not ever. "You are helping, just by being here. I don't want to be alone."
She pressed her lips to Eric's, first softly then more urgent. He responded without hesitation, crushing his mouth against hers. Kris dug her nails into his shoulders and the smooth contoured muscles of his chest. He gently laid her back and nibbled her ear, working a sensuous trail down her neck.
He glided down the zipper of her hooded sweatshirt and skimmed his thumb across her belly. She closed her eyes, arching as his hand slipped upward with agonizing slowness. Her stomach rose and fell as his fingers splayed over her heart. Kris's breathing quickened into a pant, every nerve ending igniting.
His eyes moved up to her, communicating desire. "I care about you, Kris. I was happy when you showed up tonight. I was afraid you didn't feel the same way about me."
"I do."
"Are you sure you want to do this?"
"Yes," she whispered. "Stop talking."
Kris reached behind his head and pulled him down. Her thoughts scattered as she banished Nicole's disapproving ghost to the dim recesses of her mind.
Author Bio:
Stacy Juba loves to write stories about Characters at a Crossroads: individuals who are finding themselves and getting on the right life path after overcoming obstacles. Her goals are to entertain readers of all ages as well as inspire them. She has made numerous bestseller lists including GalleyCat's Barnes & Noble Bestsellers and GalleyCat's Mystery and Thriller Bestsellers. Stacy has written about reality TV contestants targeted by a killer, an obit writer investigating a cold case, teen psychics who control minds, twin high school hockey stars battling on the ice, and teddy bears learning to raise the U.S. flag. She has had a book ranked as #5 in the Nook Store and #30 on the Amazon Kindle Paid List. Stacy also offers a beta reading/editing service for writers. Watch for her upcoming romantic comedy Fooling Around With Cinderella.