Interview with Claire Cream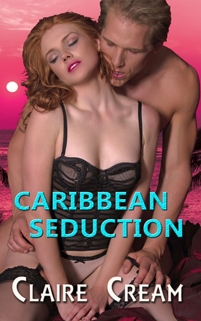 When you're brainstorming for a new story, what usually comes first for you, the plot or the characters?
A scene usually, and then I may build the whole story around the scene that won't stop playing in my head.
Are you a plotter or a pantser?
Definitely a pantser, though I've tried to outline a plot. Oh, how I've tried! I usually know the beginning and the ending but not how I'm getting there.
When you're writing, who is more in control, you or your characters?
I am.
Can you write sex scenes at any time or do you have to be "in the mood?"
Any time really. I make a cup of tea, have dark chocolate on hand, and have at it (so to speak).
What do you like best about writing?
Creating people whom others enjoy reading and sometimes rooting for.
What is the most difficult thing about writing?
Not making enough money to quit my day job.
What do you like about writing series books?
Definitely revisiting familiar characters. You're already "friends" and it's rewarding to watch them grow.
Where do you find inspiration for your stories?
Often, I use fantasy destinations, particularly warm, sunny places when I am in the middle of a frigid New England winter. The setting becomes nearly as important as my characters. In terms of what's happening with my characters, I'm inspired by my own relationships.
What do you like best about writing menage?
The sheer fun fantasy of imagining the pleasure of a threesome in the absolute safety of fiction.
What do you like best about writing erotic romance?
It's a release as a writer to explore the intensity and sexuality of erotica. It's fun but it's not as easy as it looks, and it can become tedious if you don't get your mind into the characters' heads. Even erotic scenes can fall flat and be boring if they don't happen naturally and make sense in the story's context.
Do you find it harder to write novels or short stories?
Short stories. I'm a novelist through and through (as my other pen name writing long historical romances), but I am working on mastering the art of the short story by writing erotic novellas.
Would you tell us about your latest release?
Caribbean Seduction came about as a challenge from another erotica writer. It's a quick escape for readers. I tell the story of a woman in an unhappy marriage who goes on vacation by herself. Despite her husband making her feel insecure, when on an island at a spa resort, she re-discovers how sexy and gorgeous she is. And she has a lot of great sex with some hot men.
What are you working on now?
Caribbean Seduction Encore, because one time in paradise is never enough!
Do you have an excerpt from your latest release you would like to share?
Sure, I'd love to. Here goes:
"You're a good swimmer," he said, and to her amazement, he stood up, giving her a great view of every sinewy muscle as well as what appeared to be a generous package in his swim shorts. Then he dove in and came up beside her.
"Do you want to race?"
Did she? Sherri was already a little tired from the laps, but her body started to hum with adrenaline at the attention from this handsome stranger. And she wanted to swim the length of the pool with him but wasn't at all sure she wanted to beat him. What if her victory scared him off?
"Sure," she said.
"Crawl or butterfly?"
"Crawl," she said.
"And a bet?" he asked. His gaze dropped to the generous swells of her tits that were bouncing partly out of the water.
Seeing him up close, she was sure now that they were within five years of each other, age-wise. Certainly not so different in years that she could be considered a dirty old lady if she admitted she had the hots for him. And she did! Standing with her feet on the pool's bottom and looking at his toned upper body, she could feel her clit throbbing. And all he did was flex his arms!
"A bet?" she repeated, considering. "Loser takes winner to dinner." Did that sound lame?
He gave a wry smile. "Winner enjoys dinner but also gets to kiss loser."
A kiss!
Suddenly, she wanted that more than she wanted to breathe. Either way, win or lose, it sounded as if they'd be kissing at the end of the race. Good thing she was already in the water because she was sure her pussy was getting wetter by the moment. She was so aroused, she was afraid to look down for fear of seeing her slit leaking into the pool.
"Okay, I'm game."
"On your mark," he began, and she hung on the side of the pool with one hand, feet pressed against the pool wall to push off. Not as good as diving in, but she'd started many a race this way before.
"Get ready," she said and waited for his signal.
"Go," he said, and they were off. She didn't see him push off as she was already gliding through the water then coming up to begin her best crawl in perfect form at top speed.
The end of the pool came up more quickly than she'd imagined. She reached out to touch it and then looked at him. He looked at her at the same time.
"Did you see me touch?"
"No," he said. "You?"
"No," she admitted.
He burst out laughing, and she started to laugh, too.
"We must have touched at the same time," he said. Then he held out his hand. "I'm David."
"Sherri," she said and shook his hand.
He didn't let go. Instead, he pulled her closer, up against him so their warm skin pressed close, and she could feel his heart beating as hard as hers.
"I guess we get dinner and a kiss anyway," he said, and without waiting for her reply, he claimed her mouth under his; a second later, he slipped his tongue between her lips.
After a moment of shock, she sucked his tongue and tried not to think of how she hadn't been kissed like this in so long. Her body was humming happily, with her nipples already getting hard and her clit pulse as if to say, kiss me, kiss me, kiss me.
(Available exclusively on Amazon at http://www.amazon.com/Caribbean-Seduction-Claire-Cream-ebook/dp/B00QOKQF3Q.)
Would you tell us about yourself?
I just froze at my keyboard and couldn't think what to write. I am trying to be more content in my future than I have been in previous years causing 2014 to be strange and tumultuous for me. I am currently reinventing myself, so I am not myself, you see (as Alice said in Alice in Wonderland). I have two children whom I adore, a faithful dog, and two cats who seem to eat their weight in cat food each day. I write as much as I can, but I am also a freelance editor and website developer, attempting to make a living without getting a 9-to-5 job.
What are your favorite genres to read and write?
I am all over the place and enjoy a variety. Easier to tell you that I don't read anything gory or with bad things happening to children or murder mysteries or scary things. I like happily-ever-after and happily-for-now stories and also chick lit, but thoughtful literary fiction, too.
Where can we visit you online?
When you're not writing, what do you like to do?
Eat chocolate, read, walk my dog, hang with my kids, paint my nails, and sing loudly in my car or shower.
How long have you been writing?
Too long to count.
What is your favorite season?
Spring
What book are you currently reading?
Madwoman in the Volvo by Sandra Tsing Loh
What is the last movie you watched?
I hate to say this about a Meryl Streep film, but I recently walked out of "Into the Woods." It was so very bad and heavy-handed and just awful. I can't even tell you how much my friend and I wanted to leave after half an hour but stuck it out for another hour or more before giving up.
What is your favorite comfort food?
Besides dark chocolate, which is always on my desk, I really like Indian food. Another favorite food is blueberry pie.