Guest Blogger – Elizabeth Rose – Tarnished Saints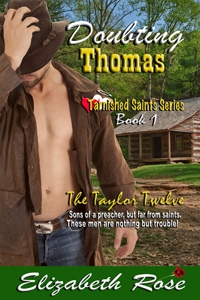 Tarnished Saints
By
Eizabeth Rose
Hi Kate, and thanks for having me as your guest today. I'm happy to announce the release of my new book – Teaching Philip – Book 8 of my Tarnished Saints Series.
When I started this crazy-woman's journey of writing a 12 book series, I had no idea just how crazy it would really get by the time I got to book 8. There are a lot of characters and I have to keep a journal with facts listed so I don't forget what I said three books ago. The series is small town contemporary, romantic comedy. Let me tell you what it's about:
The Taylor Twelve: Sons of a preacher but far from saints – these men are nothing but trouble. Twelve brothers who are all tarnished in one way or another with their vices, have split up after the death of their preacher father, going to places such as France, Peru and Alaska. But now that their mother has died too, they wander home one at a time, finding out they will get their inheritance if they marry within one year. They are all promised land and a cabin on Thunder Lake.
My story takes place in the fictional small town of Sweet Water, Michigan. The actual idea came from growing up and visiting my grandparents who lived on a lake in Michigan. My parents are there to this day. I've taken places, events, and things I remember from my own life on the lake and sprinkled them into my books. It's nice because when I describe the Bed and Breakfast in Doubting Thomas – Book 1 – it's really my parents' house. I talk about the fair in Luring Levi – Book 2, remembering going to the county fair each year when I was a child. And when they play Canasta – that is a card game taught to me by my grandmother. I've played it since I was a young girl.
The father of my heroes wanted twelve sons, hoping to have his own 12 apostles to carry on his work when he was gone. He ran a nondenominational church, and the only son who followed in his footsteps was Pete from Praising Pete – Book 7, who is a minister. But Pete has his vice of gambling, while his brother Simon, from Saving Simon – Book 5, has some anger management issues when he sees a woman being mistreated – tho it is well warranted from a past event in his life.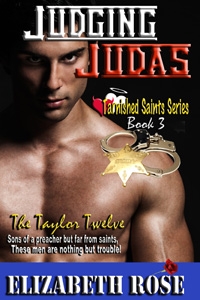 And the brothers don't always get along, either. Levi went to prison for 7 years for tax evasion, turned in by his own brother, Judas – from Judging Judas – Book 3. Then there's the twins, both named James by their father since there were two apostles named James. So James  – Wrangling James – Book 6 – is my cowboy who can't tell the ladies no, and his twin goes by his middle name of Zeb – Seducing Zeb – Book 4. Zeb is a lawyer who has put himself through law school by stripping. That brings us to the latest book, Teaching Philip – Book 8. Philip is different from the rest of his brothers. While they like to sit around drinking beer and watching football in the Man Cave, Philip has a few quirks that involve cleaning, organization, and a whole different way of thinking. Not good for my heroine, Taylor Phillips, who is messy, outspoken, and steals his job as principle of Sweet Water High. Not to mention – he says she's stolen his name. And like their names that are total opposites. They are one Odd Couple.
If readers would like to get started with the series prequel, it is called Tarnished Saints' Christmas, and is told from the eldest son, Thomas's point of view. It takes place when the Taylor Twelve are young boys, showing events that are forerunners of things to come in their individual stories, as well as the reason their father labeled them as Tarnished Saints.
The prequel is only 99¢. And through Sunday, June 14, readers can also get a copy of Teaching Philip for only 99¢. Watch for Loving John – Book 9 this fall, followed by Playing Nate – Book 10, Igniting Andrew – Book 11, and Taming Thad – Book 12, coming soon!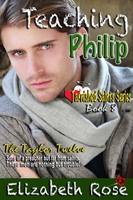 Here is an excerpt from Teaching Philip:
Philip would leave when he was good and ready to, not because he was being run out of town on a rail. No, he'd just stick around for awhile and do what he was good at. This woman wasn't principal material, and anyone could see that . . .  if they looked past the dimples. He'd just stick around and degradingly take the job as her vice principal, and when he was through everyone would see that he was the man for the job, not her. He'd steal his position back from her and let her see how it feels.
"All right, I'll take the position of vice principal," he said. "But I want my own office."
"We don't have another office," said the head of the school board, Valerie Wolf. "Just the small one for your secretary, but she needs to stay there for the students since it doubles as the nurse's office as well."
"Let him share an office with our new principal," said Levi, making Philip want to slap him. He'd seen how messy and unorganized the woman was, and there was no way he wanted to share space with someone like her.
"I think that's a terrific idea," said Taylor before he could answer. "Then we will have a chance to get to know each other better. We'll bring in another desk and put it right there next to the window and just share this space. Is that all right with you?" She looked up to him and batted those long lashes. She had to be aware she was using her sexuality on him. Wasn't she? Either way, it didn't matter because although he hated the idea with every fiber of his being, he felt his resolve breaking down.
"What do you say, Bro?" asked Levi. "It could be fun."
"Fun?" Philip just looked at Levi and shook his head. How did his idiot brother ever land the position of Sweet Water's mayor when he used words like fun in a situation like this? That alone made him want to accept the proposal, just to have someone who took their job seriously in this town. "I don't think fun is the appropriate word in this situation, and I'm sure it'll be far from it. But since I'm devoted to my job and making this school a better place for the teens of Sweet Water, I'll accept the offer – for now. But I'll make no promises and sign no contracts. I'm sorry but that's the best I can do."
"We'll take it," said Taylor with a big smile. Then she turned quickly and raised a hand. "Someone get a desk in here for my new assistant, and everyone get back to work. I'll catch up with you all and get to know you later."
"Did you really just refer to me as your assistant?" asked Philip as everyone piled out of the office. "I'm not your assistant, Ms. Phillips. I'm your co-worker. I'll be working side by side with you, not for you. Let's just get that fact straight right off the bat."
"Of course, Mr. Taylor," she said with a nod. "That's what I meant. Now, the first order of business as I see it is that one of us is going to have to change our name, because it's just going to be too confusing."
"I'm not changing my name. Everyone's called me Philip Taylor in this town for the last twenty-nine years and my name stays."
"And everyone's called me Taylor Phillips for the last thirty – I mean – twenty-some years as well, so my name stays too."
"What if we call you Tee?" asked Levi, overhearing their conversation.
"I won't change my name, unless Philip changes his too," she said stubbornly.
"Well, then we can start calling you, Pee, brother," said Levi with his obnoxious lopsided grin.
"That's fine with me," said Taylor, looking over at Philip for his answer.
Philip crossed his arms over his chest and just stared at both of them, wondering if they were joking or just nuts.
"I wouldn't suggest anyone even attempt to call me Pee because you don't want to see me when I'm pissed off," Philip warned them.
Both Levi and Taylor started laughing and he realized just what he'd said.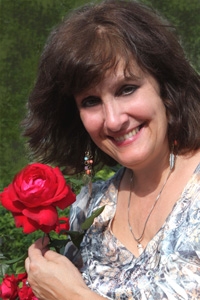 Bio:
Elizabeth Rose is the author of over 40 books. She writes medieval, small town contemporary, paranormal, and western romance. Some of her books have been seen on Wild Chicago and The History Channel. She is a best-selling Amazon author in several different categories. You can visit her website to sign up for her email list at http://elizabethrosenovels.com. If you'd like to follow her on Twitter, her handle is ElizRoseNovels, and her author facebook page is Elizabeth Rose – Author (don't forget the dash.) There are other authors by the same name, but you can tell Elizabeth's books by the rose on each cover. She has a background in art, and creates all her own covers as well as her book trailer videos.
Here is a book trailer from the Tarnished Saints Series (Books 4-6) as well as a book trailer from the Cowboys of the Old West Series: