Interview with Staci Troilo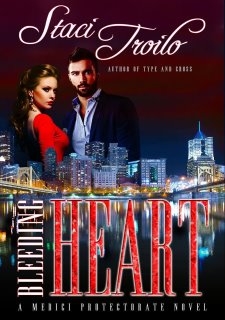 Would you tell us about your latest release?
Bleeding Heart is the first installment in my new paranormal romance series, called the Medici Protectorate Series. Centuries earlier, Michelangelo made a promise to his Medici benefactors to always watch over their descendents. He then prophesied the birth of four daughters and foretold of upheaval in the Italian government which could lead to those daughters reestablishing the Medici ruling line. Generation after generation, warriors assembled to protect the family. Bleeding Heart chronicles the story of the oldest of the four prophesied daughters and the warrior who protects her.
What are you working on now?
I have completed the first draft of book two of the series, Mind Control. While I revise that novel, I'm writing the second book of my mainstream series (Out and About, Jensen's story from the Cathedral Lake Series).
Do you have an excerpt from your latest release you would like to share?
I'd love to share a scene from Bleeding Heart. This takes place when the heroine, Francesca "Franki" Notaro, confronts her warrior, Gianni DeSanto, about the status of their relationship.
"Why haven't you kissed me again?"
He pulled back and looked into her eyes. She couldn't read his expression and feared he wasn't going to answer, and then she feared he would and she simply wouldn't like it.
"Franki. Don't you remember what happened when I kissed you?"
"Of course I do. Why do you think I want you to kiss me again?"
He laughed. "That was far too public a place for that kind of display."
Her cheeks flamed at the memory.
"The next time I kiss you, I want a bit more privacy. I want to kiss you properly."
"That wasn't properly?" Her heart raced, and he wasn't even touching her.
"Maybe I chose the wrong word. How about indecently?"
Oh, man. She'd never been kissed properly indecently before.
What three words would the hero of your story use to describe his love interest?
Stubborn. Talented. Giving.
What three words would the heroine of your story use to describe her love interest?
Passionate. Strong. Relentless.
What makes the hero of Bleeding Heart hot?
His selfless determination to protect her, no matter the cost.
Would you give us a sneak peek at one of your upcoming releases?
Book two of the Medici Protectorate Series, Mind Control, follows the second sister, Jo, and her warrior, Vinnie. This excerpt is from the beginning of the book.
She lay naked on his bed, luminous ivory skin juxtaposed against his black sheets. Dampened hair capped her head, a bonnet of cinnamon locks darkened by shower water, glistening in the glow of the lamplight. She whimpered. Restless on the bed, she reached for something, someone. He knew she sought comfort, but he stepped out of her reach. She wouldn't want it from him—from anyone—and he didn't have time to offer it. Stopping at the foot of the bed, he took hold of the covers and pulled them over her, letting them fall softly over her sleeping form so as not to wake her. Sighing, she snuggled down into the bed and seemed to settle into a more restful sleep. He reached toward her and brushed a stray lock of hair from her face. She sighed and grabbed his hand.
Che cazzo? The response he felt was primal, visceral… low in his abdomen and surging throughout his body.
He'd felt nothing but concern for her when he'd seen her undressed, and she'd practically been on display like a diamond in a velvet box. So why did a mere touch of the hand create such a reaction? He shook his head, trying to clear it, and yanked his hand away from her.
Do you have a favorite character or characters you feel especially close to?
My favorite character is the girls' grandmother, Nonna Carmina. In many ways, she reminds me of my own grandmother (who is 97 and still strong, funny, kind, and wise in ways I'll never be). I've actually had readers ask for more of her in the stories. She's definitely my favorite.
Do you prefer writing your heroes, your heroines or do you like writing both equally?
I prefer writing the heroes. My heroines aren't the hardest in the genre, but they're nowhere near damsels-in-distress level. Even given their independence and power, a man's strength (physical, mental, and emotional) is so much more compelling to me, and so much more fun to write.
If you were a shapeshifter and could become any one item owned by your latest romance hero (or heroine), what would it be?
The Medici hand mirror. I'd love the ability to see the future. And I think it would be cool to show others their destinies and see their first, and most honest, reactions to it.
Staci Troilo has been writing since she was a child. She earned her bachelor and master degrees in writing from Carnegie Mellon University, and after graduating, worked in corporate communications until she had her children. Later she worked as a writing professor and now is an editor and marketing director as well as a novelist and short story writer. Her works combine dark, dangerous heroes and strong, capable heroines woven together into a contemporary tapestry of tantalizing romance, compelling villains, and gripping mysteries.
For more information about Staci or her works, you can:
Thank you, Kate, for hosting me on your site. Answering these questions was fun, and I'm thrilled and honored to share a little bit of my work with your readers.