Interview with Zenobia Renquist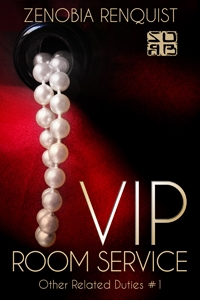 Zenobia – Thanks so much for hosting me on your blog, Kate. I appreciate the opportunity to introduce myself and my wacky imagination to your readers.
Thank you for being a guest, Zenobia! Are you a plotter or a pantser?
A long time ago, I would have said pantser all the way. Okay. Not that long ago. I've become an amalgamation of the two now. I still write by the seat of my pants, but I try to have a basic (very basic) outline of where I want the story to go. No more starting at PointA and writing whatever comes to me when it comes to me to get to PointZ.
Stream of consciousness is great and all but doesn't work well with deadlines or finishing a book in a timely manner. Since my goal is to write more so I can publish more, I've had to adopt some plotter practices to keep myself on track. Plus having a rough plot in front of me saves of revisions. Do I deviate from the outline? All the time. I treat it like a map. A straight shot is quicker but sometimes the scenic route is more fun.
When you're writing, who is more in control, you or your characters?
Totally my characters. I won't even pretend that's up for debate. I used to think I was the one making them dance to my whims and then one day a few years back a bout of writer's block knocked me off my stride for several weeks. I couldn't write another word, though I wanted to.
The cause? One of my heroes didn't like what I had him doing. He refused to budge another millimeter until I changed it. The second I changed the offending scene the story flowed again. I learned my lesson at that point. I made them up, sure. But once I give my characters life in my mind, they dictate their actions. I'm just there to write it all down.
Would you tell us about your latest release?
My latest release, which is $2.99 but on sale for 99¢ until 26 Sep, is VIP Room Service (Other Related Duties #1) a Contemporary Hotel Erotica with BDSM and a MFM ménage.
Blurb:
She offers satisfaction above and beyond what is requested.
Lexie's job as a maid at a five-star hotel doesn't normally include the unique and risqué form of room service that rich guest Mr. Malena has requested, nor the generous tip he's offered. Submission and exhibition and a ménage. Lexie can't resist. What should have been a one-time thing turns into an introduction into the sensual world of customer satisfaction. This is one workplace encounter that could get her fired…or will it?
NOTE: Title previously published as Wine Service (Professional Courtesy 1).
Buy Links:
All Romance eBooks
https://www.allromanceebooks.com/product-viproomserviceotherrelatedduties1-1768225-354.html
Google
https://play.google.com/store/books/details/Zenobia_Renquist_VIP_Room_Service?id=yPyhBwAAQBAJ
iBooks
https://itunes.apple.com/book/vip-room-service/id980481147
Kindle
http://www.amazon.com/dp/B00V8RE64K/
Kobo
https://store.kobobooks.com/en-US/ebook/vip-room-service
Nook
http://www.barnesandnoble.com/w/books/1121647282?ean=2940151231589
Smashwords (use coupon code FH44L at checkout to receive sale price)
https://www.smashwords.com/books/view/530798
Do you have an excerpt from your latest release you would like to share?
Of course. I always have excerpts to share.
Excerpt:
She drew in a long gasping breath and then choked on it as someone knocked at the door.
"Room service."
She widened her eyes, and her pleasure dropped to nil.
"Ah. Right on time." Mr. Malena dialed off the vibrator, removed it, and set it aside. He called, "One moment."
"What?" Lexie asked in a frantic whisper. She clutched at the comforter, debating if she should hide in the bathroom or under the bed. Had the server heard her? Had he recognized her voice?
She looked at her uniform draped over the back of the chair. He would know a housekeeper was with Mr. Malena. A housekeeper who was undressed with a wide variety of toys out in the open. No deductive reasoning was needed to figure out what was happening or who the housekeeper was.
Mr. Malena patted her belly. "Shhhh." He held his finger to his lips. "Just relax."
"I can't relax," Lexie whispered back. "He'll see me."
"No, he won't." He grinned. "Not your face, at any rate." He urged her to lie back before draping a towel over her head. "There."
"Wha—"
"Shhhh. You don't want him to recognize your voice, if you know him. So long as you stay still, he won't see your face."
"What about the rest of me? What about my uniform? And the cart outside?" Lexie could see her job ending. She should have known this was too good to be true.
"I'll take care of it. Now hush."
Clothing rustled. Lexie peeked under the towel in time to see Mr. Malena fold her uniform into one of the dresser drawers and close it. He slipped on a robe and then glanced back at her. She yanked the towel back down. She wanted to roll herself in the comforter. Wanted to and didn't at the same time.
She only had to keep her face covered, and the server wouldn't know who she was. The idea of letting a virtual stranger see her naked titillated her. Her clit throbbed and ached to be touched. She clutched at the towel and waited.
Mr. Malena opened the door. "Thank you, my good man. I am famished. This way."
Lexie frowned. When had he ordered room service? Had he done it before she arrived and known it would get here while they were playing? He did seem less flustered by this turn of events than she was, as if he'd planned it.
The server asked, "Where do you want— Whoa!"
A long pause followed that exclamation. The server had seen her.
Want more? Read the full first chapter online at DRB1stChp Blog:
Would you give us a sneak peek at one of your upcoming releases?
My upcoming release, due out October with Changeling Press, is On the Double (Guardian's Tales #4) an Interracial Shifter Romance featuring an MFM ménage. I do like my threesomes.
Blurb:
Roman and Kenz, two possessive alpha males—one a bird shifter and the other a snake shifter—are looking for the woman who will complete their triad. Letha, an African American woman with a troubled past, thinks one man is all she wants. When this threesome comes together, the sheets start to sizzle.
Everything should be perfect but something is preventing them from completing the bond that would make their threesome permanent. With the full moon approaching, Roman and Kenz have one chance to make Letha theirs or else lose her forever.
Learn more:
http://zenobiarenquist.com/bookshelf/gt-series/on-double
Where can we visit you online?
I'm all over the place and trying to keep it all straight.
Visit my website: http://zenobiarenquist.com
Follow me on Twitter: https://twitter.com/ZenobiaRenquist
Like my Facebook Fan Page: http://www.facebook.com/Author.DRBagby.ZRenquist
Like my Amazon Author Page: http://www.amazon.com/Zenobia-Renquist/e/B002BWYVW8/
Review my books on Goodreads: http://www.goodreads.com/zenobiarenquist
Get my Authorgraph: http://www.authorgraph.com/authors/ZenobiaRenquist
Sign up for my Newsletter: https://signup.ymlp.com/signup.js?id=geusujygmguu
What is the last movie you watched?
Pixels, the new Adam Sandler movie that also has Peter Dinklage from Game of Thrones in it. A pretty funny movie with lots of nostalgia value. There were a few plot holes but they didn't detract from the movie. I totally recommend seeing it.
Zenobia – Thanks so much for spending time with me. I hope you take advantage of the 99¢ sale going until 26 Sep. VIP Room Service was a lot of fun to write. I hope readers have just as much fun reading it. Have a happy.