Interview with Nicole Evelina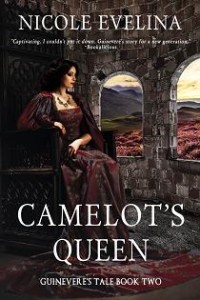 Would you tell us about your latest release?
Since this is the second book in a series, I am asking readers to please read the first one before reading this one. I know not everyone will do that, but motivations and relationships will make a lot more sense if you do.
Camelot's Queen picks up just a few months after Daughter of Destiny ended, with Guinevere's wedding to Arthur. This book is her life as queen. It's the legend we all think we know, but the story has so many pieces that not everyone will recognize every aspect of it. Yes, Guinevere and Lancelot have an affair, but the reason behind their coupling will surprise you. Yes, the quest for the Holy Grail is in there, but what it actually turns out to be isn't what you normally think of. Yes, Morgan plays a disruptive role, but definitely not in the ways you've seen before. And there are two darker aspects to the legend that not many stories portray that I've focused on because they were traumatic experiences in Guinevere's life and it makes sense to show them through her eyes. She's also a trained warrior, so you see a few battles through her eyes.
It's a powerful book – my editor actually told me she cried more while reading this book than she has in ages. By the time it ends, you may wonder if I can put Guinevere through anything else…the answer is yes, but that's for the final book in the series.
What are you working on now?
Doing the final edit for my fourth book, Madame Presidentess, a historical fiction novel about Victoria Woodhull, the first woman to run for President in the United States in 1872.
Do you have an excerpt from your latest release you would like to share?
I made it to my room and slammed the door. Alone at last, I leaned against the door, struggling to catch my breath. Tears spilled over as the enormity of the day finally sank in. I slid down to the floor and ran my hands through my hair. How could my life have changed so much in only a few hours? I thought Arthur had grown to love me, but he had just accepted a former lover back into his confidence after only having been reunited with her for a few hours. What did that mean for my marriage?
I didn't know how long I spent contemplating my situation, but just as quickly as the tears had come, I started laughing. I was being ridiculous. Arthur had had to learn to live with Aggrivane at court long ago. Granted he'd sent my former betrothed on missions away from Camelot as often as possible, but he had still learned how to cope with his presence. I was behaving like a child. Galen had been right the day we argued in the forest so many years before. I really was worse than a fisherman's wife. And worse, I had changed little with the passage of time. I stood, straightening my dress and mentally preparing myself to apologize to them both.
After a few deep breaths, I went back down to the meeting room, expecting to find Arthur and Sobian discussing the finer points of her new role. But to my surprise, the room was empty. Octavia came in, holding a tray to collect the ale pitcher and our used glasses.
"Do you know where Arthur went?"
She eyed me carefully. "He is in his room. Alone." She emphasized the word, knowing I would wonder. "They told me about her new role. Are you in agreement that it is wise?"
"I will be," I reassured her.
Octavia made a noise indicating she wasn't so certain then busied herself cleaning up the table. That was when I saw the lone sheet of paper. Thinking it to be notes from Arthur and Sobian's discussion, I bent over the table to get a better look.
My blood turned to ice. The letters were formed of patterns made by varying lengths of horizontal, vertical, and diagonal lines. It was written in Ogham, the ancient language of the Druids, so it could not have come from Arthur. He hadn't studied with them long enough to have learned it. Plus, its message was not one a husband leaves his wife.
I ran to Arthur's room, rubbing my hand over the goose-pimpled flesh of my arm. "You may wish to rethink your decision," I said as I entered.
He looked up. "Why is that?"
I held the paper out to him. "This was left in the meeting room." I shivered again.
He plucked the paper out of my hand and turned it in several directions, trying to figure out how to read it. "Ogham. That's unusual. What does it say?"
I grabbed it back, irritated beyond decorum. After what had happened with the madman and Sobian, I didn't think I could take much more.
"That's the problem. I think it's a threat. 'My queen, you may close your eyes to the one you scorned, but that will not keep me away. I will breathe your last breath so that you will live on forever in me.'"
Arthur's face darkened. "Only one man could claim such a thing."
I looked at him quizzically, brow furrowing. "How do you know Sobian isn't party to this? It appeared right after she did in the very room she last occupied."
Arthur sighed, clearly frustrated that I didn't trust Sobian implicitly as he did. "Because this isn't her way. As she said, if she wished you dead, you would be. She has no need for idle threats."
"Who then?"
"Think about the message." His tone took on a condescending air I did not care for. "Someone you once rejected? Who did you give up to marry me? You may not want to see it, but the answer is right in front of you."
He didn't have to say the name. Suddenly I knew exactly who he blamed. His menacing gaze was fixed on my former lover.
Guilty or not, Aggrivane was in serious trouble.
Would you give us a sneak peek at one of your upcoming releases?
Here's a scene from my romantic comedy, Been Searching for You, which comes out May 10. It's actually the opening of the book:
To Whom It May Concern,
I think I wronged the love goddess in a previous life. How else do you explain that I've written you so many letters yet we've still not met? Everyone I know is either married or in a committed relationship, and here I am, pen in hand, writing to someone I can't even prove exists.
There's an old Chinese folktale that says soul mates are connected from birth by an invisible red thread and that they can feel one another's emotions, no matter the distance. It is this connection that eventually enables them to find one another. I believe it too.
As I write, I find myself trying to imagine your face, grasping at flashes of memory from dreams, wondering what name to voice in my prayers that you will soon be by my side. The irony is that by the time you read this, the color of your eyes will be second nature to me and your name will roll off my tongue as easily as my sister's.
So please, my unknown love, hold tight to your red cord and follow it like a lifeline into the safe harbor of my arms.
"Are you ready yet, birthday girl?" Mia's impatient voice broke through my romantic reverie, scattering my lovelorn thoughts.
"Almost," I yelled back as I scanned what I had written. I wanted to say so much more, but Mia wouldn't wait. But there was one more thought I couldn't let go unsaid.
I just want you to know that I haven't given up on you. I don't trust easily, but I trust in you. I'm still waiting, though not so patiently anymore.
All my love,
Annabeth
The note was short compared to other years' letters, but it would be after midnight when we returned home, so this would have to be enough. My one rule in this long-standing tradition—I'd been writing these letters since I was sixteen—was that the letter to my soul mate had to be written on my actual birthday. I folded the paper, slipped it inside the matching envelope, and licked the flap, then I pressed down to seal it.
Mia stuck her head in the door just as I drew the big numeral on the front. It matched my age—thirty-four. She shook her head, making her flaming tresses bounce. "You and your letters. If you two don't meet soon, he's going to have to buy an extra plane ticket on your honeymoon just for that box." She nodded toward the big square hatbox that functioned as a hope chest for my letters to my future husband.
I slipped the newest letter in front, envelope awaiting further decoration. "Yes, but it's romantic, don't you think?"
"For a young girl, maybe, but you're well past that, hon." Her tone softened when I made a face. "You've got plenty of declarations of love. Maybe this should be the last one. You know, new year, new traditions?" She held up a shot glass filled with golden liquid. "Come on. We need to get this party started."
Still scowling, I took the glass and downed the tequila with a small shiver. "If you say so."
As I locked up, I cast one last glance at the box on my desk. She had a point about growing up, but I had no intention of giving up my beloved letters. It was only one each year, and it meant something to me. Those weren't just letters; together, they were my gift to my future husband. Old-fashioned? Maybe, but it was me. Anyone who wanted to marry me would appreciate that. I smiled with a sudden thought. It was good I didn't want to marry Mia.
If you could meet one of your characters, which one would it be?
I would love to meet Sobian. She's a chameleon of a woman and fearless. She started out as a river pirate, became an assassin and then a spy. She's one of the strongest, most fascinating characters I've written yet. I'd love to ask her exactly what happened between her and Arthur when they were younger. I know what Guinevere thinks, but she's very judgmental and could be wrong.
Do you prefer writing your heroes, your heroines or do you like writing both equally?
I love my heroines. I think that's why I write in the first person POV always with a female protagonist. The are all feisty, but in their own unique ways. My male characters are fun, but they can be hard to get to reveal things about themselves (Arthur was the worst about that). That and I find it much harder to get into the mind of male characters.
If you could step into one of your books, which one would it be?
Been Searching for You, my romantic comedy coming out in May. I want Annabeth's happy ending!
Would you share a favorite quote from your latest hero, heroine or villain?
"Part of me has never stopped loving you. Whether I meet freedom or death outside these doors, I can be at peace knowing you know." (That is Guinevere and I'm not telling who she's talking to…)
Name three fictional characters (not your own) that you find hot. They can be from books, movies, or TV.
Klaus and Marcel from The Orginials (Fun fact, Joseph Morgan who plays Klaus is my dream casting and inspiration for Malegant in Camelot's Queen. And Charles Michael Davis who plays Marcel is my inspiration for Miles in Been Searching for You.) I also love Felix from Orphan Black. (Yes, I know the character is gay. That doesn't stop me from having the hots for him.)
What book are you currently reading?
Books is more like it. In the Shadow of the Storm by Anna Belfrage is my current ebook and on audio are Confess by Colleen Hoover, Spirit Bound by Christine Feehan and The Adventuress by Tasha Alexander.
What is the last movie you watched?
How to Be Single. I loved it! I had read the book years before and loved the book, too. I can't remember if they were anything alike, but I loved them both!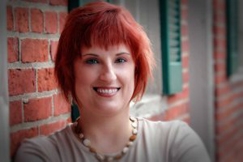 Nicole Evelina is an award-winning historical fiction and romantic comedy writer. Her most recent novel is Camelot's Queen, the second book in an Arthurian legend trilogy that tells Guinevere's life story from her point of view.
Her debut novel, Daughter of Destiny, the first book of the Guinevere's Tale trilogy, took first place in the legend/legacy category of the 2015 Chatelaine Awards for Women's Fiction/Romance, and was short-listed for the Chaucer Award for Historical Fiction. Her upcoming novel, Been Searching for You (May 10), a romantic comedy, won the 2015 Romance Writers of America (RWA) Great Expectations and Golden Rose contests. Later this year, she will release Madame Presidentess (July 25), a historical novel about Victoria Woodhull, America's first female Presidential candidate, which was the first place winner in the Women's US History category of the 2015 Chaucer Awards for Historical Fiction.
Nicole is one of only six authors who completed a week-long writing intensive taught by #1 New York Times bestselling author Deborah Harkness. Nicole has traveled to England twice to research the Guinevere's Tale trilogy, where she consulted with internationally acclaimed author and historian Geoffrey Ashe, as well as Arthurian/Glastonbury expert Jaime George, the man who helped Marion Zimmer Bradley research The Mists of Avalon.
Nicole is a member of and book reviewer for the The Historical Novel Society, and Sirens (a group supporting female fantasy authors), as well as a member of the Historical Writers of America, Women's Fiction Writers Association, Romance Writers of America, the St. Louis Writer's Guild, Women Writing the West, Broad Universe (promoting women in fantasy, science fiction and horror), Alliance of Independent Authors and the Independent Book Publishers Association.
Her website is http://nicoleevelina.com. She can be reached online at: