Interview with Elizabeth Harmon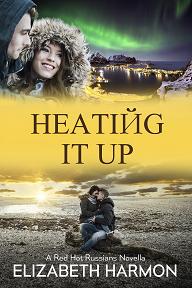 What is one of your favorite things about writing?
Reading the third draft and doing the final revisions. By then, the story and character elements are in place, and it's time to refine the language, layer in emotion, play with symbolism, motif, all the fun stuff that finally transforms the manuscript into the book I'd been envisioning all along.
When you're brainstorming for a new story, what usually comes first for you, the plot or the characters?
The characters and their situation, almost always. I often see them in broad terms, such a bad boy, a wallflower, a Miss Perfect, etc. and I love bringing together opposites. I also love fish out water stories, and all of my books have some element of this.
Are you a plotter or a pantser?
I'm becoming more of a plotter with each book, and find I really enjoy the process of planning out the story and getting to know my characters ahead of time. I won't say it makes writing easier, but it does mean that I use more of my first/second draft, which makes for a more efficient process.
When you're writing, who is more in control, you or your characters?
There's a constant push-pull which can make the writing both fascinating and frustrating. When the characters I've imagined don't come out the same way on the page, I find myself having to adjust them somewhat in later drafts, otherwise, there's a risk of pulling the entire story off track.  (A couple of early, unfinished novels suffered this fate.) But sometimes the characters will reveal something about themselves that's too good to leave out—such as an insight into their past I'd never thought of, but which perfectly explains why they act the way they do. Then I work it into their backstory and find it makes them more interesting and relatable.
Would you tell us about your latest release?
I'd love to! Heating It Up is a novella-length story in my Red Hot Russians series that plants sophisticated San Francisco architect Nora Bradford in Amity Bay, Antarctica, where she meets and falls for Alexei Zaikov, the rugged station manager who is determined to save Amity Bay from closing. Nora wants to help him, but will the truth about her role in Amity Bay's demise doom their romance?
Do you have an excerpt from your latest release you would like to share?
Slowly, Nora crawled from beneath the bed, then sat with her back against the wall, too stunned to go any further. She was alone. A squatter in Antarctica.  Well, she'd wanted to break some rules. Do something rash. Here was her chance. She might even make history. Assuming she survived.
The thought made her laugh, but as her laughter sputtered to an end, the oppressive silence of the huge empty lodge settled all around. She buried her head in her hands. Oh my God, what have I done?
The answer was the creak of footsteps on the stairs.
Nora gasped and swallowed. Her heart raced and moisture oiled her palms. She called out in a trembling voice. "Herbert? Mark? Is that you?"
Without waiting for an answer, she raced from the room. They were still here! It wasn't too late! She could put this ridiculous scheme behind her, and go back to San Francisco like a sane person. Thank God!
"Hello! Hello! It's Nora! I changed my mind! I'm coming with you!"
No one was on the stairs, or in the lobby. Shit! They must have gone outside. She could still catch them, if she hurried. She dashed across the lobby, slipping in her socks on the polished wood floor.
"Wait! Don't leave without me!"
Nora burst out the front door, and onto the veranda. A blast of frigid wind sliced through her sweater and stopped her in her tracks.
She stared down at the bay. Night was falling. And the yacht was gone.
What three words would the hero of your story use to describe his love interest?
Mysterious, beautiful, and elegant
What three words would the heroine of your story use to describe her love interest?
Down-to-earth, kind, genuine.
Buy links:
Amazon:
https://www.amazon.com/Heating-Up-Red-Russians-Novella-ebook/dp/B01NBI008P
Barnes and Noble
http://www.barnesandnoble.com/w/heating-it-up-elizabeth-harmon/1125305385?ean=2940153876726
Kobo
https://www.kobo.com/us/en/ebook/heating-it-up-a-red-hot-russians-novella
Apple ITunes Books
https://itunes.apple.com/us/book/heating-it-up-red-hot-russians/id1185123438?mt=11
Smashwords
https://www.smashwords.com/books/view/684794
My links:
Website:
http://www.romancewriter-girl.com
Facebook:
https://www.facebook.com/elizabethharmonauthor?ref=hl
Twitter:
https://twitter.com/romanzwrter_grl
Goodreads Author Page:
https://www.goodreads.com/book/show/23440537-elizabeth-harmon
BookBub
https://www.bookbub.com/authors/elizabeth-harmon
Amazon Author Page: