What is one of your favorite things about writing?
Working in a call center, I find it very cathartic. I love letting the characters tell me their stories.
When you're brainstorming for a new story, what usually comes first for you, the plot or the characters?
Plot, it comes to me in the middle of the night.
Are you a plotter or a pantser?
Pantser.
When you're writing, who is more in control, you or your characters?
Characters.
Can you write sex scenes at any time or do you have to be "in the mood?"
Anytime, but usually the characters tell me when they want to be in the mood.
What do you like best about writing?
Letting the voices in my head out.
What is the most difficult thing about writing?
Finding the time. Working full-time, then coming home I have to do "normal" stuff. Normal stuff is boring.
What do you like about writing series books?
Revisiting past characters.
What do you feel are some of the pros and cons of electronic publishing (instead of traditional print format)?
Pros are that if you self-publish than you can release when you want. You also get more choices. I like being able to find a vampire, or menage or romantic suspense when I'm in the mood to read them.
The cons, getting noticed is harder. Before writing, I was really good at promoting others, but myself, I find it harder.
What do you feel are some of the pros and cons of indie publishing?
The pros are that you can write what you want, not what editors think will sell. BDSM is a good example, it wasn't considered sellable until Fifty Shades came out, now everyone is jumping on the bandwagon.  The cons, is getting traditional authors to accept that you're every much an author as they are.
Where do you find inspiration for your stories?
Movies, television, talking to customers on the phone.
What do you like best about writing menage?
My favorite? Hmm, that love isn't just a number.
What do you like best about writing erotic romance?
I like being able to write what I want, that the doors, windows are open for sex scenes.
What are your favorite research resources?
Literotica or Lush stories, especially if I'm stuck, I google everything.
What usually comes first for you, characters or plot?
First thing is a scene that pops in my head. Last weekend I had this vivid dream of three characters in a fight. One of the characters was a witch, I'm not writing any witches yet. Sooner or later the rest of it will come to me.
Do you find it harder to write novels or short stories?
Novels, they take me out of my comfort zone. I want to push myself out of that comfort zone and write longer.
Would you tell us about your latest release?
It's Resurrection of Artemis, which was in an anthology that didn't do well, those of us in it agreed to unpublish it.  It's my nod to superheroes, a sexy version of Batman. Amy Wilson learned to hack at an early age, taught by a neighbor who watched her while her mom, Ruby worked. Amy started small by first hacking into her father's bank account to get the child support money that he owed her mother. Eventually though, she got caught and is on probation.
She gets recruited by Dark Master aka multi-millionaire Noah Adams and his assistant Vanessa London aka Calypso. Noah owns the tech company next to the coffee shop where Amy works. They'd been flirting for months as Noah and Vanessa.
When someone tries to hold technology hostage, using the same methods that Amy did, Noah and Vanessa decide it's time to get Amy where they want her, in bed and fighting crime with them.
What are you working on now?
I can never work on one thing at a time. Right now I'm working on Bella and the Beast, a follow-up to Wendi and Tink. I'm also working on the fourth installment of my Other World Series, and I just started plotting out my first MM vamp.
Do you have an excerpt from your latest release you would like to share?
"People have been mentioning Artemis," Calypso said. "You wouldn't have heard anything?"
They knew, Amy thought. Somehow, they knew. "No, Artemis isn't here anymore. At least from what I heard."
"Damn shame, too," complained one of the customers in the shop. "Not the Artemis that is playing with the lights and stuff. But the Artemis who liked to help people with their problems."
"Yeah, I think if someone is behind it, it's someone pretending to be Artemis, or trying to shift the blame on her," said another customer. "She may have done some things, but she'd never deliberately set out to get people hurt."
Amy smiled at the person that made the comment. "I've been here all day. But it's more than the traffic lights. Didn't I hear that the other day the Financial District was shut down because the money showed at zero?"
"That is something that Artemis had fun with," Dark Master commented. "Or had in the past."
"I'm sure that whatever has been happening in Quail City has nothing to do with Artemis," Amy replied.
"Hope for Artemis' sake it's true," Calypso said. "Williams is ranting and raving in Commissioner James' office asking for her to be arrested."
Just bet he is, thought Amy. "Is there anything else I can get you?" Amy asked them. She saw that it was almost six and the last bus going towards her apartment would be there any minute.
"You in our bed," Calypso said in her ear. "Your blue hair will look glorious on our pillows." Then out loud stated, "That's all for now."
What three words would the hero of your story use to describe his love interest?
He has two, Vanessa he would use smart, seductive and headstrong. Amy, he would describe as courageous, hot, underestimated.
What three words would the heroine of your story use to describe her love interest? Vanessa would describe him as loyal, brilliant mind, funny. Amy would describe him as Sexy, panty-melting hot.
If the main characters in your latest release were invited to a masquerade party, what costumes would they wear?
Amy would come as a cat, Noah as a gladiator, Vanessa as a nurse.
What makes the hero of Resurrection of Artemis hot?
He sees women as his equals. Vanessa may be his assistant, but he listens to her ideas. Amy, he knows who she is, and wants her because her skills on the computer is someone he wants working with him, not against him.
Would you give us a sneak peek at one of your upcoming releases?
Here is an excerpt of Bella and the Beast:
"Pain?" Bella mentally swallowed hard.
"Floggers, hand, paddles, other instruments," Miss Anna explained. "Plus, there will be times when we will have guests, if one requests your services you're to do so without question."
"Okay," Bella knew this was one of the conditions she agreed to in the email.
"I don't think you'll object to it as much as you think you will. I can see in your eyes, you crave to be dominated. You want this, more than you're willing to admit. Now stand up, remove your clothes," ordered Miss Anna. "Now."
The tone in Miss Anna's voice changed to one that Bella didn't want to disobey. Standing up, Bella removed her clothes. Standing in a bra and panties.
"I said strip, bra and panties too," Miss Anna said. "Let's make it even easier for you, because you won't be needing them while here."
"You called?" Toby opened the door.
"Bring me some scissors," Miss Anna instructed.
"Yes, ma'am," replied Toby, returning she handed them to Miss Anna.
"No, you do it," ordered Miss Anna. "I want her bra and panties removed."
"Okay," Toby walked towards Bella, she pulled away the band of Bella's bra, cutting the band and the straps. Bella tried to grab onto the pieces as they fell away. She covered her breasts with her hands.
"Remove your hands," instructed Miss Anna coming up behind her. "You're not to wear clothing, not until I know you can be trusted not to take off. Now remove your hands, keep them on your side."
Do you have a favorite character or characters you feel especially close to?
It's hard to choose.
Would you share one of the sexiest or most romantic lines from one of your books?
From Wendi and Tink:
"No, it isn't a joke," Ms. Belle walked towards her. "These will be used on you in some form or other while you work here." Ms. Belle pulled the top of Wendi's dress down, kissing the top of her breasts. "I've done my research on you. You are what people like to categorize as a good girl. You do whatever your parents tell you. You date guys that they choose for you, but they do nothing for you. You crave to be told what to do, in bed and out of it."
What are a few of your favorite book covers that have been done for your books?
My favorites so far are, Extra Mile, Purrloined and I love the cover for Resurrection of Artemis.
If you could meet one of your characters, which one would it be?
I'd like to meet the Temple sisters from my Other World series.
Do you prefer writing your heroes, your heroines or do you like writing both equally?
Heroines.
If you could step into one of your books, which one would it be?
UnCharted Reality, It takes place on the planet Imhotep.
Would you share a favorite quote from your latest hero, heroine or villain?
A favorite quote of my readers is from Wendi and Tink:
The first thing Wendi noticed when she opened the door was the noises coming from her bedroom. "Harder," said a female voice.
Stopping at her bedroom door, Wendi couldn't do more than gape at the sight. Leaning against the doorframe, she watched Pan move inside of the woman that was laying on her bed. The woman clawing Pan's back, "Deeper, harder," the woman ordered.
"He's not that big, so that's probably as deep as he can go," Wendi spoke up.
Would you tell us about yourself?
I was born in Detroit, moved to Oklahoma City because the job market sucked. I've lived here for almost five years. I'm happily single and am owned by a chihuahua/terrier named Misty.
What are your favorite genres to read and write?
Erotic the hotter the better.
Where can we visit you online?
Twitter, I do a?Facebook, I live there.  little Instagram. My blog.
When you're not writing, what do you like to do?
Play online versions of reality shows.
How long have you been writing?
Almost 3 years.
To you what makes a great romance hero?
Someone who listens to the heroine's opinions, accepts the heroine's flaws and even finds them sexy.
To you what makes a great romance heroine?
Someone that doesn't fly off the handle. Doesn't turn stupid after sex. She works with the hero to their happy ending, not fighting her feelings for him.
Do you have any particular writing habits? (Listening to music, best time of day to write, etc.)
I like putting Amazon Prime on TV and put on a fireplace with storms playing.
Where would you go on your dream vacation?
Australia
Name three fictional characters (not your own) that you find hot. They can be from books, movies, or TV.
Roarke from the In Death series, John Black from Days of Our Lives, and Finn from the Amazon show Good Girls Revolt. (I just started watching it)
If you could be any kind of shapeshifter, what kind would you be?
A lion
What is your favorite season?
Summer
What book are you currently reading?
I'm about to start Cynthia Sax's Dark Thoughts.
What is the last movie you watched?
Fifty Shades Darker
What is your favorite comfort food?
Spaghetti
Do you have any pets?
Have a dog named Misty who facetimes with my mom.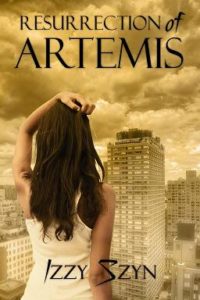 Resurrection of Artemis
by Izzy Szyn
Blurb:
Once known as the infamous hacker Artemis, Amy Wilson now works in a coffee shop. With only months until the end of her probation from working in the technological industry that she loves, Amy is determined to keep Artemis dead and buried.
When incidents similar to the ones Amy did start occurring all fingers start pointing in Artemis' direction, and three people that want Artemis to come out of retirement.
Quail City's super heroes Dark Master and Calypso aka as multi-billionaire Noah Adams and his assistant Vanessa London know Amy's secret, and also know that she is being set up. Having spent months in a flirtmance with Amy, they are tired of waiting and want both her and Artemis in their bed.
Hinderer wants to hold technology hostage, but in order to do that he needs Artemis' assistance, and he will use any methods necessary to gain her cooperation.
Amazon Buy Link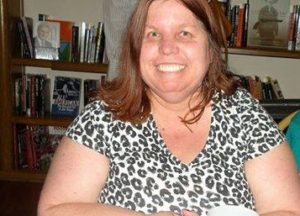 About Izzy:
New York Times Bestselling Author Izzy Szyn was born in May of 2014 when a friend dared her to write. Born and raised in Detroit, Mi. Izzy now lives in Oklahoma City with her furchild Misty, the friendliest Chihuahua/Terrier you will ever meet. Currently works in a call center, where she writes in between phone calls.
Izzy loves to keep in touch with her readers. Email her at izzyszyn@gmail.com.
Find her on Facebook 🙂 https://www.facebook.com/Izzy-Szyn-379714942215154/timeline/
Twitter: https://twitter.com/izzySzyn
Blog: https://izzyszyn.wordpress.com/
Goodreads: https://www.goodreads.com/author/show/13836241.Izzy_Szyn
Google Plus link: https://plus.google.com/100905614042668276073
Izzy will be awarding a $10 Amazon to one randomly drawn winner via rafflecopter during the tour. For details about how to enter, visit
http://reviewsbycacb.blogspot.com/p/resurrection-of-artemis-izzy-szyn-izzy.html