Blog Tour: The Women Who Love Rome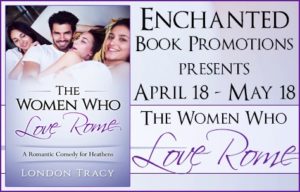 About the Book

Title: The Women Who Love Rome
Author: London Tracy
Genre: Contemporary Romance / Women's Fiction
Rome is a rich, successful movie producer, accustomed to having his way; Thursday is sweet, naive, and eager to please. When the two ex-lovers cross paths, it's love at first sight all over again.
After an explosive reunion, Thursday learns that Rome now shares his home with two ladyloves and has every intention of making her his newest conquest. Together, they embark on a daring, unorthodox living arrangement that pushes the boundaries of lust, love, and the forbidden.
E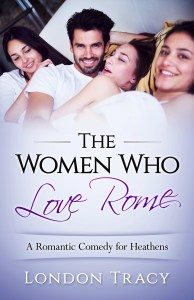 xcerpt:
Los Angeles International Airport
I have an epiphany, and not the kind that my sister says can be cured or eradicated by rubbing cream on it, but a real eye-opening epiphany. I have been kidding myself into believing that my weak excuse for not pursuing a relationship is because of my commitment to my writing career.
What writing career?
In the three years that I have been a disenchanted writer, my publisher has sold two copies of my memoir: one to myself and the other one also to myself, which I returned for a refund. If I'm postponing love for that kind of success, someone should sell me some land and quick, before I grow wise.
These are the thoughts that drift through my mind as I head into the Los Angeles airport, making certain to drop two dollars into the homeless man's cup. I lug my stuffed-to-capacity bright orange tote bag behind me, as energetic orange has recently become my color of choice.
Today marks the end of a six-day stint at my sister Kirby's house after coming here to celebrate the one-year anniversary of my divorce. It's been a busy, exhausting, and exciting six days of bumming on the beach, boozing it up, and philosophizing until the crack of dawn.
I have two hours to kill before my flight departs for Chicago so I check my luggage, go through security, and proceed to Gate Twelve. Eager to catch up on some journaling, I find an empty row of seats to make my own. I exhale a deep breath as the memories of my fabulous vacation are fading.
I am all out of excuses for not pursuing a romance, and make the decision to do something about it. Otherwise, I will be back in Chicago, living my humdrum existence, hoping and wishing for things to be different. While I enjoy my iced white tea from 95 Degrees of Heaven, I sit comfortably with my pen poised over my jumbo-size hardback journal. I am ready to make a thought-provoking entry about my glorious vacation, when out of nowhere, I hear a male voice say, "I want to see your panties."
Did I just hear what I thought I heard?
I can only hope that those words are not directed at me. I chuckle and jolt my head upwards, eyes widened. Then, my jaw drops. I tell myself that my eyes are playing tricks on me. But my eyes are fine. The person before me is exactly who I think he is: Rome Nicki, an old boyfriend who ran away. That's right. His handsome butt ran away from me and married someone else, but I digress. What's most notable is how much I wanted this man, and when I say I wanted him, I mean I wanted him bad!
How bad did I want him?
This is the man I wanted to make well when he was sick, the man I planned to curse out when he came home late, the man I wished to make love to on Mondays and Wednesdays and sometimes even Fridays, but most importantly, the man I wanted to stamp with the words Already Taken.
In short, love is my religion, and Rome used to be my church.
"Oh… My… God," I say to him. I am all smiles when I throw myself into a standing position and curl my arms around him. "I can't believe it's you."
Rome holds me close, and I soak up his just-showered scent. I'm totally preoccupied with sex now, and all he's done is hug me.
What would happen if he kissed me?
I have to control my emotions. I inhale a whopping deep breath and remind myself that what I had with Rome before is over. Today is a totally different day. The man is probably still married anyway. My mind is listening to my sophisticated logic, but my body has a mind of its own and is hoping that old times will be back again and soon.
With Rome's arms still wrapped around me, I don't want to let go of his warm body, but I force myself.
"Here we are together again, just like old times," he says, his haunting sienna brown eyes staring at me. "Do you care to take a trip down memory lane?"
Author Bio
Avid journaler. Dog lover. People lover. Writer. Lover of children. I believe that there's good and bad in all of us and that the people who like us choose to only focus on the good. I possess an insatiable curiosity about all things. I adore character driven movies and instrumental music that transports me to a place of nirvana. I believe that Leonardo DiCaprio is the most fascinating actor of all time. If I could write as well as he acts, I would be rich. What I love to do more than anything else is talk. The book that most reflects my personality is my novel, "The Women Who Love Rome," which is available for free at Smashwords.com. Contact me at londontracy44@yahoo.
Links
The Women Who Love Rome is available for FREE on Smashwords