Dark Flight And The Thrill Of The Chase With Cynthia Sax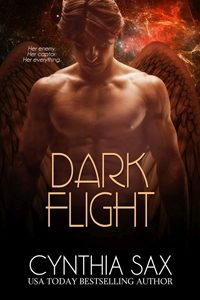 When I think of thrilling chase scenes, I envision action movies. The chase scenes in the James Bond movies, for example, are spectacular. While I'm watching them, my heart pounds. My breathing is ragged. My palms sweat. If James Bond makes one small mistake, he's dead.
There are, however, some great chase scenes in romance novels, especially in SciFi Romance. The stakes in these stories are as high as those in action movies. It's a life or death chase. Our hero or heroine or both could die on the page.
There are also the sexy chases. The hero, for example, is chasing the heroine. These are as thrilling. There's an element of fear on the part of the hunted. But, in addition to that, there's sexual excitement. She'll be his 'captive' when she's caught. He could do anything with her and that anything likely doesn't include clothes. (grins)
Then there are the chases that start as the life and death kind and end as the sexy kind. I consider those the best of both worlds. The hero is chasing the heroine but she doesn't yet know he's her hero. He might be the enemy. He might kill her when he catches her. She fears him, perhaps hates him. He grabs her, turns her to face him and…. Bam, super steamy gazes, perhaps a scorching hot kiss.
THAT is the type of chase Orol and Rhea, the hero and heroine of Dark Flight, have when they first meet. She is being hunted by the Humanoid Alliance, the bad guys, and she believes he is one of them. She thinks he plans to kill her. But she is his destined mate. He has very different plans for her.
What are some of your favorite chase scenes? What kind of chases are they-life or death, sexy, or life or death morphing into sexy?
***
Blurb
Dark Flight
His mission. His challenge. His forever.
Orol, the Refuge's second-in-command, has been given what he believes is a simple mission—escort two human females to the settlement. The winged warrior arrives at the meeting site to find one of the females missing and the other aiming a gun at his head. To rescue the first, he must capture the second. Once he has Rhea in his talons, however, he realizes he never wants to let her go.
Her enemy. Her captor. Her everything.
Rhea doesn't trust anyone. She certainly doesn't follow commands issued by a gorgeous flying male with glittering eyes, a beautiful face, and a seductive touch. Orol is dominant, edged with darkness, and determined to find her sister. Rhea will do anything to prevent that, even if it means playing sensual games of submission with her powerful enemy, seducing him into forgetting everything except her.
Dark Flight is a STAND-ALONE SciFi Romance set in a gritty, dark world.
You Can Pre-order Now:
Amazon US: https://www.amazon.com/Dark-Flight-Refuge-Book-2-ebook/dp/B07124941B/
Amazon UK: https://www.amazon.co.uk/Dark-Flight-Refuge-Book-2-ebook/dp/B07124941B/
Apple/iBooks/iTunes: https://itunes.apple.com/us/book/dark-flight/id1242494643
B&N: https://www.barnesandnoble.com/w/dark-flight-cynthia-sax/1126484675
Kobo: https://www.kobo.com/us/en/ebook/dark-flight-3
Smashwords: https://www.smashwords.com/books/view/727350
Excerpt
She sprinted in the direction the ship had come from, following the drag marks on the ground.
His little shooter was both his female and his prey. The predator in him was in ecstasy.
Orol gave chase, monitoring the terrain around them, ensuring no one but he would target his female. She must have somehow sensed his presence. She zigged and zagged, trying to throw him off her trail.
"I have you, Tiny Warrior." He swooped downward.
"Never." She reached for her long gun, twisted her lithe form, flinging herself onto her back. A sob escaped her lips as her shoulder smacked against the sand.
His female was a force.
"Give up. You're no match for me." Orol grasped her weapon, yanked it from her slender fingers, tossed it to the side.
"I'll give up when I'm dead." She extracted a gun from the pocket of her flight suit. He knocked the weapon from her hand, batting it across a sand dune.
Undaunted, she sourced a third gun, his female tenacious. Orol removed that weapon from her grip also, gaining great satisfaction from throwing it as far from him as possible.
"You'll have to kill me to stop me." The female jumped to her feet, nearly fell over, corrected herself, and ran.
Crimson now coated most of her back but she moved quickly, too quickly to be severely injured. Either that, or she was the most stubborn being on the planet.
That was a possibility.
Bemused, enthralled, aroused, Orol followed her. She sprinted over hills of sands, navigated the valleys. He hovered above her head, close enough to make his claim on her apparent to anyone watching them.
She has his, his to hunt, his to protect. His body cast a shadow across her smaller form, shading her from the hot sun. A human male might not play with his prey. He was half predator, however.
His eyes gleamed as he tracked her progress.
Bio
About Cynthia Sax
USA Today bestselling author Cynthia Sax writes contemporary, SciFi and paranormal erotic romances. Her stories have been featured in Star Magazine, Real Time With Bill Maher, and numerous best of erotic romance top ten lists.
Sign up for her dirty-joke-filled release day newsletter and visit her on the web at www.CynthiaSax.com
Website:  http://cynthiasax.com/
Newsletter:   http://tasteofcyn.com/2014/05/28/newsletter/
Facebook:  facebook.com/cynthia.sax
Twitter:  @CynthiaSax
Blog:  http://tasteofcyn.com/