Cover – Fangs and Fists 3: Victor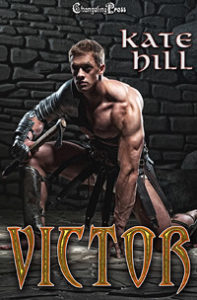 I now have the cover for Victor. This third story in the Fangs and Fists series is scheduled to release this month. Find out more about Victor below.
Thank you for stopping by!
Kate
Fangs and Fists 3: Victor
Erotic Paranormal Romance
From Changeling Press
Werewolf gladiator Victor vows to escape captivity by demons or die trying–which nearly happens when his latest opponent takes him by surprise.
Jolanda is a member of a secret pack of wolf witches who want to free their kin from the dreaded demon tower. Strengthened by the power of her pack, she defeats Victor in the arena and demands that he be given to her as a mate.
Alone, they surrender to their overwhelming lust for each other, but Jolanda needs him for more than sex. She's been sent to rescue the captive wolves and Victor is the Alpha she needs to help her. Together he and Jolanda plan a mass escape from the tower, hoping to strike a blow the demon masters will never forget.