New Release – Fangs and Fists 3: Victor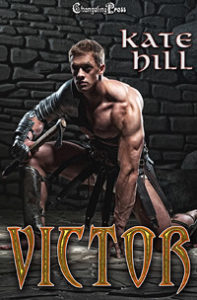 I'm pleased to announce that the third story in the Fangs and Fists series is now available.
When Jolanda defeats Victor in the arena, has she won a sex slave, or has she come to set him free? …
Writing this series has been a lot of fun. Right now I'm working on Haylen's story. If you've read the series, please let me know what you think and if you would like to see future stories set in this world.
I hope you enjoy the following excerpt from Victor.
Thank you!
Kate
The following excerpt from Fangs and Fists 3: Victor by Kate Hill is for readers 18 and over.
"Why don't you sit?" she said, gesturing toward the bed. "Make yourself comfortable."
"Only a traitor would suggest that anyone could be comfortable in this tower."
She offered him a flirty grin, stepped closer, and slipped her arms around his neck. "If you prefer to do this standing up, that's fine with me."
He grasped her waist and shoved her away.
Without the strength of her pack, she felt the full force of his power. If not for the magic, he probably would have destroyed her in the arena.
"This isn't going to happen," he said flatly. "I'd rather cut my dick off before putting my seed in you."
"That would be a waste."
Approaching again, she reached for his cock.
He grasped her wrist hard.
"If you and your friends want to play, find someone else. I'm done being manipulated. Do you hear me?" Victor shouted, glancing around the room. He knew as well as she did that the masters probably observed everything that went on in the tower. "I'm done! Better that you kill us all than keep us here!"
"What's wrong with you?" Jolanda snapped. "Do you enjoy pain?"
"You'd love to see me tortured, wouldn't you, witch?"
"Don't flatter yourself."
He growled deep in his chest. "You're a disgrace to our kind. It's bad enough you use magic, but to turn it against us — to join them — you're disgusting."
"Your lips say I'm disgusting, but your scent and, uh, other things, say something else." She glanced at his semi-erect cock. "And let me remind you that if you don't do this willingly, the masters have ways of forcing you."
"Either way is against my will," he said. Then he narrowed his eyes and growled again. "So I should choose the one that's worse for you."
He moved toward her so quickly that she didn't have time to react. He pressed her hard against the wall, wrapping her hair around his hand and holding it almost painfully to her nape. His gaze fixed on hers.
She refrained from fighting him, hoping that she could reason with him.
"Funny, with all your talk of integrity you didn't strike me as a rapist," she said.
"You mean like you?"
"That's not what this is," she said so softly that only wolf ears could hear her. It was like she'd spoken to him in the arena.
He leaned so close that his lips hovered over hers. His beard even tickled a bit.
"Then what is this?" he asked in a rough whisper.
"I needed to be alone with you, Victor," she whispered back.
"For sex."
"You males really do have a one-track mind. Not for sex — though if we want to make this look legit, we'll have to do it."
His brow furrowed. "Don't sound so enthusiastic."
"A moment ago you didn't want it."
He smiled without a trace of humor. "I can't figure you out."
Fangs and Fists 3: Victor
by Kate Hill
Paranormal Romance
https://www.changelingpress.com/product.php?&upt=book&ubid=2610