Interview with Damian Knight, hero of Summer's Song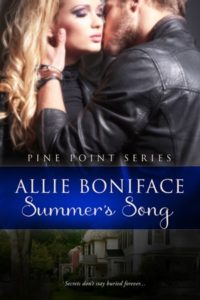 Where are you from?
I've bounced around a lot. Right now I live in Pine Point, a small town in upstate New York, with my mom and my little sister. It's a good, safe place to try and keep a low profile – which we need to do, since my ex-stepfather is an abusive lunatic who's trying to find us.
What is your job?
I currently work as the carpenter and general construction worker on Summer Thompson's house. Her father left it to her when he died. It's an old, historic place, pretty run down right now, but with lots of potential. She doesn't plan on keeping it, but I'm hoping I can change her mind.
What is your favorite thing about Summer Thompson?
That she doesn't know how amazing she is. She has all these doubts about herself, which makes sense considering how much she lost when she was a kid, but honestly they just make me want her more.
Describe Summer in three words.
Brave, strong, beautiful.
Describe yourself in three words.
Silent, stubborn, kind-hearted.
Name one piece of clothing you wouldn't want to live without.
Well, it's not really a piece of clothing, but I couldn't go anywhere, or make a living, without my tool belt. You'll rarely see me without it.
What is your idea of a perfect date?
The one Summer gives me about midway through this book: a homemade dinner on the porch steps that ends with an amazing kiss (actually a little more than a kiss…). If it inspires me to write a song about it/her (which it did), then even better!
What makes you happy?
Spending time with my loved ones and keeping them safe.
Summer's Song Blurb:
Summer Thompson doesn't remember the night her brother died, and she certainly doesn't want to go back to Pine Point and face any memories that might be awoken there. But ten years after leaving her small hometown, she's back to settle her estranged father's estate and be rid of the half-renovated mansion she's inherited. What she doesn't expect is to find the house occupied by a hunky handyman reluctant to talk about his past.
Damian Knight has been helping his mother and sister hide from a brutal stalker, but now the peace and carefully guarded safety they've found in Pine Point is in danger. The refuge they live in is about to be sold out from under them by the lovely but haunted Summer, a woman who quickly finds her way through Damian's defenses and steals his heart.
But in a small town full of powerful secrets, the past won't remain buried. Summer has to face her memories and could lose the man she loves, and maybe even her life.
Buy Links:
Entangled Store: https://entangledpublishing.com/summer-s-song.html
Amazon: http://bit.ly/SummersSongAmazon
Apple: http://bit.ly/SummerSongApple
B&N: http://bit.ly/SummersSongNook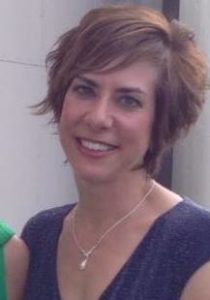 Author Bio:
Allie Boniface is the USA Today best-selling author of over a dozen novels, including the Cocktail Cruise, Hometown Heroes, and Pine Point series. Her books are most often set in small towns and feature emotional romance with relatable characters you'll know and love.
A graduate of the University of Rochester and Case Western Reserve University, Allie is a full-time high school English teacher in the beautiful Hudson Valley of New York. When she isn't teaching or writing, she and her husband love to travel.
Take some time to browse around Allie's website, check out new and upcoming releases, and sign up for her newsletter. You can join Allie's All-Stars too, an exclusive readers' group on Facebook where fans and friends chat about life, characters and story ideas, and have exclusive access to prizes, giveaways, and early sales!
Author Links:
Website: www.allieboniface.com
Facebook: www.facebook.com/AuthorAllieBoniface
Allie's All-Stars: https://www.facebook.com/groups/AllieBonifaceAllStars/
Twitter: @AllieBoniface1
Newsletter Sign-up: http://bit.ly/AlliesNews
Hot August Nights Giveaway Link: http://entangledauthors.myforeverhea.com/
(This giveaway is not associated with, managed, endorsed or sponsored by the Kate Hill Blog.)