The Beast Tamer by Night. . .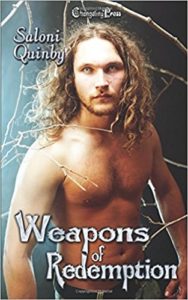 Being a night person, Guy didn't sleep very well, but he enjoyed the hours spent in bed with Ryan. The mortal woke early the next morning, just when Guy had finally tumbled into a deep sleep.
"Sorry but I need to go. I have to be at work early," Ryan said. He stood over the bed, rolling up the sleeves on his white dress shirt. It was tucked into khaki pants. Ryan's hair was neatly combed and he'd shaved off his stubble. It made him look younger. With a smooth jaw and those luminous eyes, he looked almost innocent.
In daylight, dressed in ordinary clothes, one would never guess that he was the Beast Tamer by night.
"All right. I'll get out of here." Guy placed a hand over his eyes for a moment.
Ryan caressed his hair and Guy moved his hand to meet his lover's gaze.
"I'd like to do this again," Guy said.
Ryan smiled. "I bet."
"Don't tell me you don't," Guy said with a slightly sardonic edge to his voice. Last night Ryan's very soul had cried out to him. Though he didn't want to admit it, it had been the same for Guy.
Last night had made Guy certain of two things — Ryan was feverishly attracted to him and despite his love of rough play, he wasn't a killer. However that didn't mean he didn't have knowledge of who the murderer was and if he did, he might be in danger himself.
"Didn't say that," Ryan told him.
"Tonight then?" Guy took Ryan's hand and their fingers entwined.
"I have clients tonight. Are you free Saturday afternoon?"
"Sure."
"Meet me here. Noon."
Ryan liked being in control and Guy enjoyed his company so much he almost didn't mind allowing him to get away with it.
"One," Guy said.
"All right, one." Ryan turned away from the bed. When Guy didn't move, he glanced at him over his shoulder and said, "I'll see you then."
Guy groaned and got out of bed. He grabbed his clothes, but didn't bother putting them on. Still, he smiled as he felt Ryan's gaze following his naked ass out the door.
From Weapons of Redemption by Saloni Quinby
Ebook and Paperback:
https://www.amazon.com/Weapons-Redemption-Saloni-Quinby/dp/1549838555/ref=sr_1_1_twi_pap_2?ie=UTF8&qid=1514942008&sr=8-1&keywords=weapons+of+redemption+saloni+quinby